Fright Nights at Jacobson Park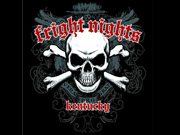 Fright Nights at Jacobson Park
Jacobson Park
Lexington, KY
Click To Call
859-421-0883
Review Us




Thousands of people visit Fright Nights at Jacobson Park each year from Kentucky and beyond as it is the premier haunted attraction in the entire region. Why do thousands of people visit Fright Nights at Jacobson Park? Because we change it up each year in order to give you the scream of a lifetime and for the 2016 season be prepared to witness an entirely different Fright Nights and Jacobson Park. Fright Nights at Jacobson Park offers three haunted attractions at one location spread over 40 acres of terrifying land to give you the scare of a lifetime. Feed your screams into an all new Entrapment, 13 Doors and the fan favorite Dark Forest this October!

Dark Forest:
We have all heard the story of how the Willow family and all of its demented relatives have taken up shelter inside the bowels of Dark Forest at Jacobson Park. For years now the Willow family tested your will to venture into the woods and to make it through alive, but what were they guarding back there? This year, you are going to find out their dirty little secret because they intend to show you just how twisted and desperate they are to feed on your screams! The Willow family has gone to great lengths to make sure their appetite for flesh will never be satisfied and that those who enter the Dark Forest will never make that mistake ever again.

Entrapment:
There are many fears known to us such as the fear of falling, the fear of snakes or the fear of heights. Everyone seems different in what they fear, however, there is one fear that we all have and Entrapment promises to exploit it among all who dare to venture into it's depths. Some of you reading this right now may be saying "I'm not afraid of anything" and this terrifying haunted attraction was made just for you. Entrapment will challenge your senses as you creep along blindly into the dark corners of the unknown. There are creatures out there that are bigger than you have ever seen and they prey on your screams. Entrapment has no boundaries as the attacks will come from every direction. Now we don't want to ruin the surprise and tell you what fear we will be seeking from you in Entrapment just yet. Just be sure to bring your friends along because we would hate for you to experience it …….alone…….

13 Doors:
The clock is always ticking and every minute a new monster will be released from it's chamber to find you, chase you and terrify you into begging for mercy as you navigate an industrial prison of rooms, shipping containers, mazes and more! You have 13 doors to open and if you hesitate for even one moment, you have lost that time forever and our creatures will be that much closer to finding you. What lurks behind each door are completely custom scenes of horror topped off by some of the most unique characters your mind has ever witnessed. We have pulled out all of the stops on this one and are going straight for the jugular so bring us your best screams because if you don't, we will find it for you. Just remember, there is no turning back because the clock is always ticking and by each passing second you're being chased by more and more creatures of the dark.


Fright Nights Lexington 15 second spot
Latest Reviews
There are no reviews for this listing yet!