Haunted Cincinnati Tours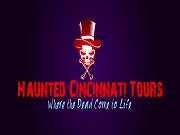 Haunted Cincinnati Tours
5 Village Sq
Cincinnati, OH
Click To Call
513-783-7339
Review Us

This is no ordinary ghost tour. We are known for being authentic. The tour is dark and sometimes a little more than scary. This is not a tour where you will ride around for hours staring out the windows. You will personally investigate some of the most actively haunted sites in the city with ghost hunting equipment we provide. The tour is approximately 3 1/2 hours in length.

Some of the locations we will visit are notorious, while others are not as well known. Each location has been thoroughly researched and investigated to provide an extremely authentic experience.

We cannot guarantee that any of the sites visited on the tour will produce a supernatural occurrence or ghostly phenomenon, but we cannot guarantee that they won't either.
Latest Reviews
There are no reviews for this listing yet!