Haunted Temple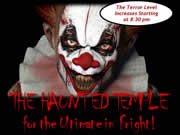 Haunted Temple
7001 Granby Street
Norfolk, VA
Click To Call
757-423-8866
Review Us


This October come to The Haunted Temple for the ultimate in Fright!

Hampton Roads' scariest haunted house brings your worst fears to life, now in it's bone chilling 5th year!

Treat yourself to a terrifying Halloween experience. Explore the twisting hallways of the Temple of Doom, haunted by spirits long dead and hideous creatures who have abandoned their tombs.

But above all, beware the deadly Mummy's Curse!

If you survive, you're just in time for the Zombie Apocalypse! A secret government facility has been overrun with zombies and your only chance is to find the way out before they find you...

Afraid of clowns? You will be, once you experience the madness of Maniac Maze in 3D! Your very sanity is at stake as you face demented clowns, impossible illusions, and no way out... all in mind-bending 3D! And so much more!
Latest Reviews
Very elaborate! Great group of people! Good location and a long attraction!

Posted Oct 2018