Los Angeles Haunted Hayride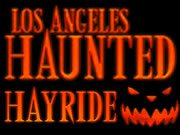 Los Angeles Haunted Hayride
4730 Crystal Springs Ave
Los Angeles, CA
Click To Call
213-839-8497
Review Us


Hold on for the thrill and take a ride into the unknown at Los Angeles Haunted Hayride, a Southern California Halloween tradition. Celebrating 10 years of scares, the Los Angeles Haunted Hayride features elaborate Hollywood style sets and effects you'll have to see to believe!

Attractions:

Midnight Falls
Midnight Falls is proudly hosting its 13th annual Halloween Festival for 1985 However, this strange town is always celebrating Halloween and it's always 1985. But that doesn't stop the citizens from enjoying the festival's bizarre celebratory offerings. Visiting the Midnight Falls residents in the town square, neighborhoods and exploring the local establishments reveal more of the strange and sinister secrets behind this eerie town.

Town Square
Located in the center of the small town, the annual Midnight Falls Halloween Festival comes to life with joyous decorations from a time gone by. Just underneath the layers of Jack O' Lanterns, glowing orange lights, high-spirited entertainment and fall festival atmosphere is an unsettling sense of foreboding – all is not right in this peculiar place. The celebrating locals are morphing into terrifying creatures while they hold the chilling secrets to Midnight Falls.

Midnight Mortuary
The dark and ominous house at the end of the street looms over Midnight Falls. Owned and operated by the Marlow family for decades, the local funeral parlor holds many sinister secrets. The town's mysteries can be found breaking-through the dim hallways of the Midnight Mortuary.

Roadkill Ranch
Just on the outskirts of Midnight Falls, mysterious ranch hands are responsible for collecting the main highway's deceased varmints. However, their hack methods of body disposal come back to bite with an insatiable vengeance. Within the dreadful chaos lurking inside, face the horrifying wrath of an ancient entity crawling inside Roadkill Ranch.

Haunted Hayride
Within the foothills of Midnight Falls, The Hayride leads to a thrilling adventure of horrors afflicting the town. Out in the darkness, a portal has opened spilling hideous creatures from its rotted mouth. The spirit of Halloween comes to life surrounding helpless victims brave enough to board The Hayride.

Trick-or-Treat
Local homes inside Midnight Falls spring to life, driven by the spirit of Halloween But it is soon discovered the ghoulish residents have far more tricks on their mind than treats. The wondrous magic of a traditional neighborhood Halloween celebration is turned upside down as terrors stalk the streets in Trick-or-Treat.


Mini Escape Games:

Mini Escape Games are a fully interactive and immersive experience unlike anything you have ever done before! Race the clock: Your group enters a room and has only 5 minutes to use clues and riddles hidden throughout the room that provide the tools necessary to meet the objective. As the clock ticks down and the pressure mounts…can you stay calm, can you escape? $5 to play.



September 2019
Su
M
Tu
W
Th
F
Sa
1
2
3
4
5
6
7
8
9
10
11
12
13
14
15
16
17
18
19
20
21
22
23
24
25
26
27
28
29
30
October 2019
Su
M
Tu
W
Th
F
Sa
1
2
3
4
5
6
7
8
9
10
11
12
13
14
15
16
17
18
19
20
21
22
23
24
25
26
27
28
29
30
31
November 2019
Su
M
Tu
W
Th
F
Sa
1
2
3
4
5
6
7
8
9
10
11
12
13
14
15
16
17
18
19
20
21
22
23
24
25
26
27
28
29
30
Latest Reviews
There are no reviews for this listing yet!