Zombie Run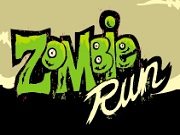 The Bend Zombie Run, pits survivors against zombies during an apocalyptic 5K race starting in the parking lot of the Bend National Guard Armory (near The Les Schwab Amphitheater).

Participants pick their poison – Zombie or Survivor – and then race to the finish to see who makes it out alive (or undead).


How it works:

Survivors start first, but will encounter a puzzle obstacle stop along the course that will slow them down and will make them vulnerable to the Zombies who are chasing them.

The Zombies will start after the survivors and follow their trail, and will later also have to navigate an obstacle of their own. All will be racing towards sweet victory at the post-apocalyptic party after the race.

Survivors carry 2 blood-red flags and only stay "alive" if they hold onto at least one the flags that the Zombies hope to grab from them as they chase them down over the course of the 5k race. The Zombies will have 2 death-yellow flags and can only continue to "eat" the Survivors if they hold onto at least one of their flags.

Prizes will be given to the top man and woman Survivors who finish both of their flags, as well as to the top man and woman Survivors with the most yellow flags and to the top man and woman Zombies with the most red flags. Prizes will also be given to the Survivors and zombies with the best costumes.
Latest Reviews
There are no reviews for this listing yet!