Haunting History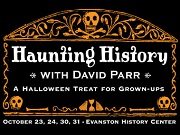 Haunting History
225 Greenwood Street
Evanston, IL
Click To Call
na
Review Us


Haunting History returns, with new history, mystery and magic

What do you get when you combine a spooky turn-of-the-century mansion with the impish imagination of magician David Parr? You get Haunting History, a unique Halloween treat, equal parts history, mystery, and magic!

Explore the corridors of the historic Dawes House, completed in 1895, and step into a shadowland where fact and folklore intermingle in surprising ways. With David Parr as your host and guide, each room offers an encounter with the strange and supernatural:

Step into the boots of Wild Bill Hickok for the most famous, or infamous, poker game in history.

Learn the skills of an old-fashioned "witch finder."

Sit in on a 19th-century séance, where restless spirits communicate in code.

You might find yourself doubting the evidence of your senses when objects move of their own accord, hidden thoughts are revealed, and cryptic messages are written by invisible hands. Is some mysterious force at work in the Dawes House? The answer is yes: his name is David Parr.

You'll find that Mr. Parr is well qualified to host a celebration of the mysterious. He is the costar of Chicago's longest-running weekly magic show, The Magic Cabaret, which was chosen by the Travel Channel as one of the best magic shows in America!

"History is much weirder than the version we learn in school," explains Parr, the creator of Haunting History. "People in the past believed that they were surrounded by the supernatural, especially around Halloween. Things that might seem bizarre or macabre to us were part of everyday life. Haunting History gives a sense of what it might have been like to live in that world."

And what about that tag line, "A Halloween Treat for Grown-ups"?

"Halloween is my favorite holiday," says Parr. "And in the past, it wasn't so identified with children. It was a time when social constraints were loosened, and grown-ups could meet and mingle, play parlor games, and indulge in make-believe." Which is Mr. Parr's way of saying that no one under the age of thirteen is admitted to Haunting History. "I know plenty of grown-ups who enjoy a good ghost story as much as I do. Why should the kids have all the fun?"

Tickets for Haunting History are in limited supply, so get yours before they are sold out!
Latest Reviews
There are no reviews for this listing yet!