Nashville Nightmare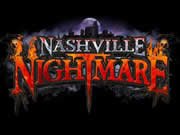 Nashville Nightmare
1016 Madison Square
Madison, TN
Click To Call
615-933-5377
Review Us

Experience fun beyond your darkest dreams at Nashville's premiere haunted attraction, Nashville Nightmare! Complete with Hollywood-quality special effects, terryfing live actors and state-of-the-art animations, this is the haunted house where your nightmares come to play. Located at the Madison Square Shopping Center.

Attractions:

Mini Escape Games
Mini Escape Games are a fully interactive and immersive experience unlike anything you have ever done before! Race the clock: Your group enters a room and has only 5 minutes to use clues and riddles hidden throughout the room that provide the tools necessary to meet the objective. As the clock ticks down and the pressure mounts…can you stay calm, can you escape?

Fairy Tale Hell
Once upon a time, you believed that your favorite fairy tale characters were beautiful and pure – that is until you entered Fairy Tale Hell! Here, you will take a journey into the Grimm memoirs and experience the darkest twists of your favorite stories. Peter Pumpkin Eater, Little Red Riding Hood and many more characters will turn your dreams of happily ever after into nightmares. You will find yourself begging for this to only be make believe as you travel through Fairy Tale Hell!

Phantoms
Enter in to these dusty corridors if you dare...these walls are home to the phantoms you foolishly believed only existed in folk tales. Here, shadows of the monstrous evil lurk in every corner, waiting to unleash their terror on unwelcomed trespassers. These inhumane beasts, like the Mummy, will bring you a petrifying nightmare that only the most twisted of minds could fathom. Journey through these sinister halls and uncover the mystery and horrors awaiting those who dare to enter...

Industrial Undead
Enter the post-apocalyptic battle where humanity is fighting back against the deranged, brain and flesh crazed zombies. Journey through a compromised military operation as Commander Snake and his army of elites brief you on how to escape and survive in a city full of bloody thirsty zombies. Can you make it out alive in this zombie apocalypse madness, or will you become one of the industrial undead army?

Reformatory
Restless spirits lurk in the shadows threatening to possess those who cross their path. Crippling fear overcomes their unexpected victims as they come face-to-face with some of the most demented creatures known to man. However, none of these creatures are as terrifying as the unvirtuous Nun, Mara. Once you encounter Mara, she will do everything in her power to keep you there…for eternity. You must then attempt to find your way out of the reformatory or face your tragic demise...
Nashville Nightmare 2018 Trailer
Latest Reviews
There are no reviews for this listing yet!