Ominous Descent Haunted Attraction
This attraction is closed for the 2020 season due to COVID-19!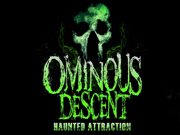 Ominous Descent Haunted Attraction
1910 Hwy 60
Bartow, FL
Click To Call
863-669-7547
Review Us

CLOSED IN 2020 DUE TO COVID.

Ominous Descent is Central Florida's newest indoor and outdoor Haunted Attraction in Bartow, FL.

Ominous Grim - Bio (Main Character):
Ominous Grim is an old, dark spiritual being. While he appears to be human on the outside, Grim is actually an evil and deceptive spirit. His interior soul drives him to leave a trail of pain, disparity, horror, and darkness behind him everywhere he goes. He infects victims with dark intentions and their own troubling past memories. He truly brings out the worst in anyone he crosses paths with. When Ominous Grim's infected victims take their last breath, their soul is marked—allowing Ominous Grim to possess and control their darkened soul.

Ominous Grim - Origin:
Before there was Ominous Grim there was Osric Stone, a powerful and evil leader of the underground crime world Kreal. Osric was notorious for his unconventional style of torture and his empty feelings towards life. As his power and reputation grew, his crew started to fear the monstrosity he was becoming. They planned to stop Osric by calling upon a local group of spiritual believers to cleanse his soul.
The spiritual believers were exclusively known for healing the mind and souls of the Broken. Osric was unlike the Broken, and as they tried to heal him, his incredibly darkened soul fought back and gained strength as it fed off of the energy from the believers' souls. Osric's body could not tolerate the sheer, raw power that developed inside of him. As a consequence, his body could no longer be sustained. Signs of decomposition cover his body, but the believers continued to press on. As a green aura began to fill in around Osric, the believers shouted excruciating screams of pain, and they all became motionless, and then quickly lifeless. As Osric Stone raised with the look of death, the darkness of his soul lived on—forever.

New Attractions:

Escape Game
Laser Tag Experience
Daytime Kids Event

This attraction is closed for the 2020 season due to COVID-19!
Ominous Descent Haunted Attraction
Latest Reviews
There are no reviews for this listing yet!