Sinister Suites Haunted Hotel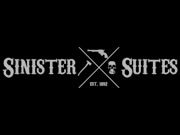 Sinister Suites Haunted Hotel
132 West Solomon Street
Griffin, GA
Click To Call
404-969-9760
Review Us

Built in 1910, The Griffin Hotel was once THE place to stay when traveling to or through Griffin. The Chamber of Commerce office was in the hotel, and a Tuesday Luncheon Club met in the hotel's dining/ball room. Though the actual hotel closed in the late 1970's, it has not lost its reputation among the locals. It is even rumored to have a tunnel leading from a former brothel to the hotel basement.

There have been numerous unexplained experiences and sightings over the last few decades, including young children on the 4th floor, items that seem to disappear and reappear out of no where, and hearing glasses clinking, laughing, and music coming from the once glorious ballroom.
Groups of paranormal investigators have been invited to the hotel in search of proof, but few have actually made it through the night. The basement, which holds the original water heater, and floods everytime it rains, used to hold underground fights in a large pit. There are even rumors that men would wrestle bears in the pit.

The hotel is opening to the public for the once again as Sinister Suites haunted house. Keeping the original architecture of the building, guests can now walk through all 5 floors, including over 15 themed guest rooms, and a completely repurposed penthouse suite.
Latest Reviews
There are no reviews for this listing yet!