The Boneyard Trail Of Terror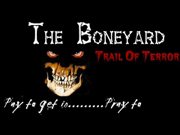 Welcome to another season of the Boneyard Trail of Terror!!!!!!!!!!! This is going to be the best season yet. We are going to rock it this year. There is no telling what is in then there woods. We are at the bottom of Dark Corner, and you never know about them mnt. folk. Plus there is no telling what else is out there. I know I have seen different colors in the dark back there and the wild animals. I don't go back there so I have know clue what has gotten in or out since we closed last year. When we close I dont go back there............... now we are getting it ready so we can send ya'll through this year and I want to see who can make it out..............HA HA HA HA HA HA..........Make sure to check your back seat..........and your friends pants........ ha ha ha ha ha

I hope that you are ready to see if you can make it thru our trail. You never know who you will see in these woods. We have heard that the swamp thing is back there somewhere, I don't know I know that there is the moonshiners from dark corner and you DO NOT want to come up on a hillbilly making shine. Plus so much more in these woods you will be in there for what feels like forever. It will be the scariest 45 mins of your life!!!!!!!!

Latest Reviews
There are no reviews for this listing yet!