Haunted Feed Mill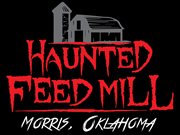 Haunted Feed Mill
101 South 3rd Street
Morris, OK
Click To Call
918-733-2092
Review Us


HAUNTED FEED MILL
The Haunted Feed Mill is one of Oklahoma's most intense haunted attractions. Featuring the Grindhouse and Lost Cabin. This is a multi element indoor/outdoor haunt that takes place in an abandon feed mill. The Haunted Feed Mill also has concession, outdoor fire pits, and an outdoor movie screen. If you want to experience fear first hand this is the place for you located in Morris, OK only 45 minutes south of Tulsa.

THE GRINDHOUSE
The grindhouse is a multi themed haunted attraction that takes place in a old haunted feed mill that has been open since 1906, for years people have come to this place to have feed ground & trade cotton. Next door a feed store still remains open today, but as far as the grind-house something much sinister lurks behind the walls. In this attraction you will experience fear first hand, with monsters lurking around every corner, & heart stopping horror from beginning to end.

LOST CABIN
The Lost Cabin is a multi-themed haunted attraction that will lead you deep into a world of darkness. In this attraction nothing will be as it seems. As you stroll through the dark and narrow halls you will encounter creachers only imagined in your worst nightmares, but pay close attention and don't lose your way or you may get lost in the cabin forever and become one of its many victims.
September 2018
Su
M
Tu
W
Th
F
Sa
1
2
3
4
5
6
7
8
9
10
11
12
13
14
15
16
17
18
19
20
21
22
23
24
25
26
27
28
29
30
October 2018
Su
M
Tu
W
Th
F
Sa
1
2
3
4
5
6
7
8
9
10
11
12
13
14
15
16
17
18
19
20
21
22
23
24
25
26
27
28
29
30
31
November 2018
Su
M
Tu
W
Th
F
Sa
1
2
3
4
5
6
7
8
9
10
11
12
13
14
15
16
17
18
19
20
21
22
23
24
25
26
27
28
29
30
Latest Reviews
Had a blast! Very scary! The bubbles at the end were AWESOME!

Posted Oct 2018

Had a great night at haunted feed mill. Top scariest place I have ever been. Lot of things to do outside with movie theater and food trailer and fire pits. Love this place

Posted Oct 2018

They really need to get a grip on the way to move the lines properly. We waiting in line for 1.5 hours until going into the second haunt which ruined the whole thing for us.

Posted Oct 2018

Was very scary! Good enough to go twice in one season!!

Posted Oct 2018

Thought it was awesome for a local small hometown attraction. I've been to other attractions in larger towns and it's just as good or better. Impressed to say the least

Posted Oct 2018

Danny and myself came there from Fayetteville, Arkansas. Had a great experience there. We really like how you had it set up. We really think that having the actors interacting with the crowd makes it really enjoyable. The only thing that we had a issue with is that at the end of the haunted cabin was that there was to much bubbles. Bit other than that small issue we had a great experience. Thank you for making our annual Halloween tour such a pleasure.Mike

Posted Oct 2018

Very scary! Value for your bang. Props look realistic.

Posted Oct 2018

Great place for the whole family! 2 attractions in one location, very realistic & terrifying. Well worth the drive, my favorite!

Posted Oct 2018

The absoulute best

Posted Sep 2018

Very scary and fun around every corner

Posted Sep 2018