X-Scream Halloween at G-Star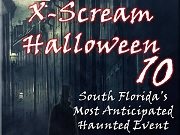 X-Scream Halloween at G-Star
2030 South Congress Avenue
Palm Springs, FL
Review Us

13 years of terror. 13 years of mystery, murder and mayhem. X-Scream Halloween 13 is our most ambitious haunt to date! Join us for a journey into the world of dark fantasy. 2 exciting themed haunts, a haunted hayride, entertainment and more!

Tale of the Dragon Witch
Dreams. Most of us don't remember them upon waking - except the bad ones! Where do they come from? Why do we have them? We've all heard tales of the Sandman. A myth, a children's story or something more? Something darker, something more evil than we can imagine lurks in our dreams. Born with the powers of darkness, a witch rules the dream realm and instills the most wicked of nightmares in the unsuspecting. But are they just dreams? Is there a world of evil we aren't aware exists? A world where the creatures of myth and magic dwell? A world where only terror exists. A world created by the most horrid of witches. A world from which escape is not possible.

Enter if you dare but whatever you do - DON'T FALL ASLEEP!

The Void
No light, no hope, no escape! Enter The Void and leave behind any hope of salvation. This is a maze you enter at your own peril - can you find your way out? There is no path, there is no pattern, there is just the dark. Oh, and did I forget to mention the inhabitants? Nevermind, you'll meet them soon enough!
Latest Reviews
There are no reviews for this listing yet!