Terror at Skellington Manor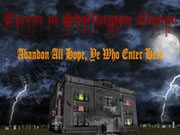 Terror at Skellington Manor
420 18th St
Rock Island, IL
Click To Call
563.344.9187
Review Us

Terror At Skellington Manor - Theatre Of The Macabre - A Haunted Experience

Terror at Skellington Manor is a walk through haunted house with highly detailed scenes, jaw dropping special effects over 60 live character actors and documented paranormal activity. Your haunt experience starts as soon as you walk in this historic former Masonic Temple. The spacious indoor wait area will keep you entertained rain or shine. This haunt spans multiple floors.

Who are these strange residents of the long-abandoned macabre Manor? What happened to them?

Over the years terrible things were rumored to have happened inside every corner of the haunted mansion. It's said that each room has a tale to tell. Perhaps tonight the Manor will reveal its mournful tales to you.

We strive to bring the beauty of darkness to every corner of this haunted mansion, induce horror and suspense in our willing victims, and create experiences that will revisit you in the darkest nights.


Latest Reviews
There are no reviews for this listing yet!