The Walk of Nightmares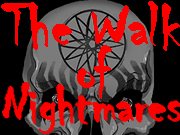 A sinister witch and her minions have come to Shiloh Woods to awaken an ancient evil. With the help of five beings she has dubbed Scions, the so-called Witch-Queen has begun a great harvest of souls in order to accomplish this task. Can you escape the villainous agents of the Witch-Queen, or will your soul be the next to feed the terrible darkness beneath Shiloh Woods? Find out at the Walk of Nightmares, where no one gets out alive...or dead!
Latest Reviews
There are no reviews for this listing yet!