The Haunting Experience on Highway 61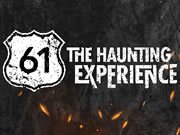 The Manor House
Decades piled upon decades of insanity have made the homestead of our resident family nearly impassible. Try if you dare to navigate the winding corridors, claustrophobic tunnel systems, and dwelling spaces of some of the most depraved beings you'll ever care to witness. You'll be assaulted with sights, sounds, and smells of the most diabolical nature. The Manor House comes equipped with a "Chicken Door" for those of you who are simply too weak of constitution to enter.

Tinkles Playgland
As you step into the the colorfully macabre funhouse that is Tinkle's, try and remind yourself that what your eyes see might simply be an illusion. But then again, maybe not. Tinkles the Clown and his half-mad brother Sterno were Vaudevillian performers until the day they lost a seemingly friendly wager to a shadowy figure over a game of ring toss. Now, rotting, crazed, and unable to die, the poor unfortunate brothers have pitched their tents here. Bringing with them a barrage of color and madness to these otherwise darkened woodlands.

The Hayride
Our trees are tall and gnarled, and our tunnels are deep. Do you have the stomach for one of the oldest, most terrifying hayrides in the state of Minnesota? If you dare to venture out onto our extended acreage, you may have the misfortune of encountering the remnants of a nearly two century old family. A family who themselves have become twisted and gnarled with age and bodily augmentation.
The Haunting Experience on Highway 61: Experiment Gone Wrong
Latest Reviews
There are no reviews for this listing yet!