Rolling Hills Asylum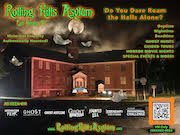 Do You Dare Roam the Halls Alone?

Sure - anyone, even your kids, can make it through a theatrical-style haunted house, but what about a TRULY Haunted Location With REAL Ghosts?

Established in 1827 the Genesee County Poor House (Infirmary added in 1938), Rolling Hills Asylum, originally a working farm, soon became a dumping ground for the castoffs of society. Widows and orphans mingled with lunatics and the unclaimed dead were buried on the property, With over 1,700+ documented deaths and hundreds not recorded, it's no wonder Haunted North America rated Rolling Hills as the #1 most haunted Asylum in the USA!

Renowned worldwide as a paranormal hot-spot, Rolling Hills Asylum is known for its Shadow People, class "A" EVPs, disembodied voice, slamming doors, and the infamous "Screaming Lady", among other para-phenomena.

So, this October, committed to Rolling Hills Asylum - No Actors. No Fog. No SFX. What you experience is REAL. REAL Ghosts. In a Truly Haunted Asylum!
Ghost Adventurers at Rolling Hills Asylum
Latest Reviews
There are no reviews for this listing yet!