Sinister Tombs Haunted House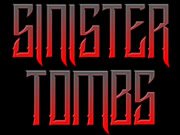 We could charge for every attraction, The Castle, The woods, The Graveyard, the Cornfield, The never ending maze. Not here at Sinister's Tombs, 1 low low price, People have been here for hours finding their way out. when you survive here most people want to thank god their out and just want go home. Did we also mention are profits go to CHARITY.
Old school haunted house with over 50 actors, wood trails cover bridges and a Castle you will never forget. This Castle entertains and scares with both skits and scares. You have to experience to understand why we have such a following. Not for the young or weak of heart.
Lord Sinister's Minions Hunt 2
Latest Reviews
Was a great haunted house and trail. Actors were good and really enjoyed the whole thing. One of the best I have ever been too and I go to them all over the country because I drive truck.

Posted 10/31/16