Kappa Sigma Wicked Woods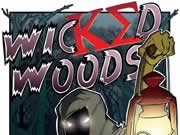 Are you ready to get the wits scared out of you? Are you ready to scream? Well you better be, because the 20th anniversary of Wicked Woods, the fifth largest haunted trail in the State of Texas

Wicked Woods is one of Kappa Sigma's annual philanthropy events; we turn our five acre backyard into a 15 minute haunted trail through the eerie woods.
Kappa Sigma Presents: Wicked Woods 19
Latest Reviews
There are no reviews for this listing yet!