Eklund's Crazy Acres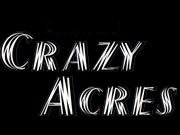 Haunted Maze

We'll scare the bejeebers out of you! …but you probably have too many bejeebers anyway. Our fearless leader Lynette Eklund has made creatures for some of Hollywood's biggest movies. At Crazy Acres, we leverage her Hollywood know-how to make our corn maze a true psychological thrill. You won't be able to guess what awaits you around the next turn, but whatever it is, you can be sure it isn't going to just sit there and let you go by!

Each year new monsters are lovingly created from your most bizarre nightmares. So, be ready. At Eklund's Crazy Acres, being crazy is more than just a state of mind!

The wagon rides, concessions, barn lot activities, and goal-hunting game available during the day are also available for your nighttime fun. And to keep the creatures in the cornfield, we keep a bonfire burning all evening long.

For safety reasons, no flashlights, flashlight apps, or cameras are permitted.


Latest Reviews
There are no reviews for this listing yet!