Elitch Gardens Fright Fest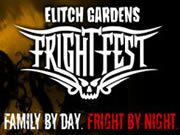 Fright by Night takes over when the sun goes down and blood-curdling shrieks, shrills and chills will take place. Prepare to be on alert all around you, as Fright Fest comes Alive and creatures lurk around every thrilling corner.Get terrorized with three haunted attractions- Flesh Factory: Escape, Big Top Freaks, and Séance. These multi-sensory experiences thrust guests into the action as they make their way through dark pathways, explore the site of a Zombie outbreak, navigate a carnival graveyard overrun by flesh-hungry clowns, and take part in bone-chilling live performances bringing stories of the undead back to life!

FLESH FACTORY ESCAPE
Come and tour Kenworthy Biological, once the biochemistry industry leader. That is, before the breakout of radiation threatened the human race and life as we know it. Now guests must explore the hidden chambers of this once thriving organization while avoiding the still active and violent security systems. In these halls, corporate motivations have turned sinister and have become overrun by zombies with an insatiable hunger. The world's supply of human flesh has diminished and Kenworthy Biological manufacturers humans to feed the undead creatures who now roam this twisted post-apocalyptic world. Located in the Trocadero Theater.

BIG TOP FREAKS
Send in the clowns! Come and explore this carnival graveyard with inhabitants who are the lowest entertainment in the side show… clowns. They have made the twisted skeletons of old rides and attractions their home and don't appreciate when people disrupt their fringe society. Travel through and explore at your own risk - just please do it quietly so as not to attract the attention of these flesh-hungry clowns.

SÉANCE
This fully immersive haunted experience blends chilling live performance, intense physical effects and unexpected audience participation. In this multi-sensory experience, guests are thrust into the action as a simple ghost story comes to life! Can you keep a secret?

HURL!
Don't miss this new spin on our classic Tea Cup ride. Take a ride in the dark on this fan favorite as you've never experienced it before, complete with fog and strobe lights!
September
Su
M
Tu
W
Th
F
Sa
1
2
3
4
5
6
7
8
9
10
11
12
13
14
15
16
17
18
19
20
21
22
23
24
25
26
27
28
29
30
October
Su
M
Tu
W
Th
F
Sa
1
2
3
4
5
6
7
8
9
10
11
12
13
14
15
16
17
18
19
20
21
22
23
24
25
26
27
28
29
30
31
November
Su
M
Tu
W
Th
F
Sa
1
2
3
4
5
6
7
8
9
10
11
12
13
14
15
16
17
18
19
20
21
22
23
24
25
26
27
28
29
30
Fright Fest Haunts Elitch Gardens
Latest Reviews
There are no reviews for this listing yet!