Nightmares Haunted House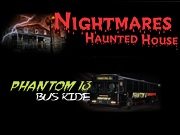 The bus will take you for the ride of your life, with a couple of minor terrorizing detours before it drops you off somewhere close to our haunted house. Although, if the Zombies are too thick to drive though you may have to find your own way through the prison yard maze to get to the house (to let you in on a little secret, there is an escape route via the maintenance area and boiler room). There you can take the service elevator and will be issued safety glasses. Due to residual chemical waste from the old mine shaft you may experience hallucinations of an alternate universe, or maybe that's just where the hellevator takes you. Not to worry the side effects will wear off shortly and you should find yourself safe and sound... well somebody will find you anyway, at Bubba Hyde's Smoke house in the heart of the Voo Doo Swamp. We will be waiting for you....
Latest Reviews
There are no reviews for this listing yet!