The Haunted Woods of New Gretna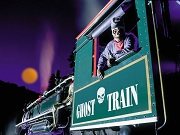 The park is decorated with static and manned displays. There are no lights except for the black light glow in some of the dark displays. Our small scale "ride on" trains take the visitors on a tour of the park. This is the only way in and the only way out. If you get scared and jump off the train you are on your own with the creatures and zombies to get out alive. Trains leave as they get loaded and circle the park 2 times for a 20 minute ride. A colored hand stamp designates who is a signed in rider. Riders go around two times and then disembark for others. Haunters move in the darkness preying on the trains and their passengers. Points of attack continually change. Trains depart as they are loaded and return after two trips around. Year round the Park is scary enough on its own with its own real Ghosts that we dont have to enhance much!
Latest Reviews
There are no reviews for this listing yet!