Nashville Nightmare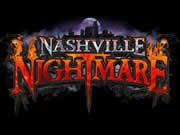 Nashville Nightmare consists of a self-guided tour through an elaborate and very intense environment, full of dark passages and wandering monsters. It consists of highly detailed scenes, state of the art animations, terrifying live actors, and incredible special effects. In 2012 Nashville Nightmare was voted #1 indoor Haunted Attraction for middle TN by multiple media sources and Haunt enthusiasts!

Night Terrors:
Journey into nightmare after terrifying nightmare in this nationally ranked Nashville Haunted House! Enter 13 different nightmares and experience true terror! Witness the all new Madison Square Mortuary, Harpo's House of Horrors, Big Mamas Meat Packing Plant, Cellar Dwellers, and Underwood Asylum, just to name a few! Just keep telling yourself it's only a nightmare! In addition, Nashville Nightmare has added more props, more special effects, and more actors to bring you the best Haunted House in Nashville!

Horror High:
Tour through the abandoned remains of the old Madison Square School House! The Madison Square School House opened its doors in 1968. In the winter of 1970, a fire destroyed the lower floor of the property and claimed the lives of several faculty and students. The School House was locked down and abandoned but has not been forgotten. Reports of strange voices and dark figures have been documented on the lower floor of the old school and even the students and teachers of the College that has leased the upper level of the property, complain of random noise heard below. The Nashville Nightmare crew has started to renovate thousands of square feet of this Haunted High School of Horror for the 2014 season! Will you have what it takes to go back to school, or will you play hookie from the all new Horror High Haunted House!
Nashville Nightmare Harlem Shake III
Latest Reviews
There are no reviews for this listing yet!