The Scaregrounds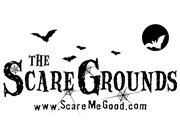 The Attractions:
DISTORTIONS - An amazing 3D visual experience!
CarnEVIL
Stroll through a custom painted 3D visual attraction that was painted entirely by a talented artist, Mike Yruegas. 3D glasses will be provided to all our guests. You will be second guessing yourself on what is real and what is not!

DARK INTENTIONS is situated at the Private Penitentiary in the deep south. There are no inmate rights. You did the crime and you have to do the time...if you can live that long.

JUNIPER HOLLOW "High School Horror"
The saga of Juniper Hollow continues. In the 1960's, students and staff begin to mysteriously disappear. Although never proven, the community thought it had something to do with Tommy the school janitor. Tommy had been employed by the school for over 20 years and had endured a lot of taunting and teasing for his scarred faced and distinctive limp. As the legend is told, the students and staff were captured, taken to the janitor basement, tortured, killed, and they have come back as zombies to seek revenge.


Latest Reviews
There are no reviews for this listing yet!