The Haunted Barn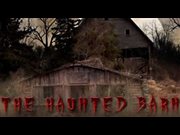 The Haunted Barn of Stoughton Wisconsin and it's volunteers would like to Thank everyone who has visited us year after year as well as those who have just become our latest victims.

The Haunted Barn originated in 2004 as the last remaining remnant of a small animal petting farm (Triple T Petting Ranch).The original crew consisted of two actors ( Larry Twining and Bill McCafferty ) as well as Kris Twining and Carole Brown who combined as tour guide, cashier and public relations persons. Also the help of Tania, Traci and Tyler Twining where the "Triple T " originated from. The several years to come have turned this once 15 minute walkthrough and startling scare adventure in to one of the Madison WI, area's biggest and scariest Haunted Attractions.

What was once a small crew has grown to a whopping 30 – 40 scare actors and attendants on any given night in production. Friends, family, and visitors who just can't resist the urge to entertain and scare you make up this twisted bunch of creepy characters that just keeps growing bigger every year.

Each and every year will bring something new to the Haunted Barn and its ever growing additions such as outdoor trails leading through a Haunted Woods, Haunted Cemetery, Freddy School Bus and ever changing second indoor haunt last known as "BlooDsHed". No two years will ever be duplicate, and our ongoing goal has always been, and always will be to provide you the best spooky entertainment possible. None of this would be possible without our cast and crew.
Latest Reviews
There are no reviews for this listing yet!