The Mayhem Mansion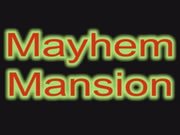 Haverford's Hollow will also be having it's own EXTREME night in 2016!

Think you know your way around The Mayhem Mansion? NEW twists and turns await you for the 2016 season. Something has gone amiss during it's winter vacancy and the spirits within have moved some things around and added others. Venture inside to see what's new if you dare. As always not recommended for small children!

We will be doing an EXTREME ADULTS ONLY night once again in 2016. Admission will be $20.00. You must show ID that you are at least 18 yrs of age and sign a waiver to enter. NO ID NO ENTRY! We STRONGLY recommend you wear old clothing as this will be our most bloodiest, scariest, HANDS ON night EVER! We also recommend to remove rings, watches and necklaces as they may get wet!


Latest Reviews
There are no reviews for this listing yet!