Asylum & Hotel Fear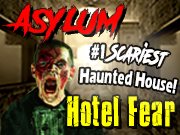 Asylum & Hotel Fear
4300 Meadows Lane
Las Vegas, NV
Click To Call
720-631-6682
Review Us

This year is our 20th season!...20 Years of FEAR!! Asylum & Hotel Fear together at the Meadows Mall!! What is unique about these attractions is the interlinked story lines. It is basically one large story shared between the two attractions!!

This is consistently rated nationally as the scariest haunts in Vegas! Forbes Magazine, USA Today, Buzz Feed just listed them as one of top 25 Haunts in the country!! The ONLY Nevada haunt to make the list!! See why all Vegas haunts are compared to the ASYLUM!!!

The independent film RUST was shot in the Hotel and Asylum. It debuts this October! Instead of trying to recreate someone else's scenes, you can walk the ACTUAL sets used in the movie! HOTEL FEAR will feature characters from RUST so you can experience the movie...then watch the movie!!

Come see the Vegas haunts so detailed they are actual movie sets!!

Do you know what SCARES YOU????

WE DO!
Latest Reviews
There are no reviews for this listing yet!