Haunted Places in the United States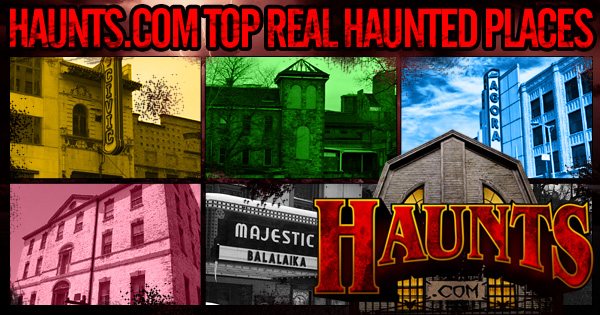 The United States is a Paranormal Paradise, filled with haunted places all across the nation. Ranging from asylums and hospitals, to cemeteries, theaters, museums, restaurants, hotels, roads and bridges - there's an endless amount of destinations throughout the country that are believed to be truly haunted. Whether you reside in the Northeast, down South, on the West Coast or in the Midwest, paranormal lovers can find numerous haunted spots, and many of which can be visited and investigated, too! Located in some of the biggest cities throughout the country, or in small towns that only locals know of, there are a ton of places that have quite the history, and even more interesting ghost stories. Click on your state below to find the Haunted Places nearest you!
Find a Haunted Location by Selecting the State below...
Whether you're from the West Coast, up in the Appalachia Mountains, down in the Florida Keys, or anywhere in between, chances are that one of America's many real haunted places is nearby! Ranging from old lovers' lanes in rural towns to iconic buildings in large cityscapes, the US is home to paranormal activity spanning from sea to shining sea, and these fascinating Haunted Places aren't limited to just one community.
From some of the most historic spots that are well known throughout the nation, to smaller, lesser known locations that are more of a local legend, each state has an incredible amount of haunted destinations that any paranormal enthusiast would love to check out. Some of the eerie tales surrounding these haunted places involve ghost stories that feature evil entities, while others are about friendly ghosts who like to play pranks on people. The paranormal world is one that lots of people are intrigued by, and many try to understand. And no matter where you are in the U.S., there could be a creepy spot right in your own neighborhood that you pass by every day!
Like the Amityville Horror House in Amityville, New York, which sits on a quiet street that you'd never think anything of, or the Villisca Axe Murder House in Villisca, Iowa, where an entire family was brutally murdered in 1912, creating so much attention that it took the sinking of the Titanic off the front page of the newspaper. Then there are the creepy asylums and sanitariums that are rich with history and a past of violent experiments that cause the souls who reside in them to become quite restless. Like the Waverly Hills Sanatorium in Louisville, Kentucky, a massive Historical Landmark that is jam-packed with paranormal activity. Or the Trans-Allegheny Lunatic Asylum in Weston, West Virginia, which sits on 26 acres and has been rumored to be one of the most haunted asylums in America.
What's even better about most haunted places is that a ton of them offer Ghost Tours and Paranormal Investigations on specific dates, or during the Halloween Season to add to the spookiness, for those who are brave enough to enter and summon the spirits! Along with these tours and investigations, some spots, such as Haunted Hotels, offer special stays in their most haunted rooms where paranormal activity has been detected. These rooms are for those who are brave enough to encounter whoever or whatever it is they may come in contact with during their stay!
A popular hotel that gets a ton of attention due to its haunting stories is The Stanley Hotel in Estes Park, Colorado. This hotel is not only rumored to be one of the most haunted hotels in America, it was also featured in Stephen King's 'The Shining,' which only adds to its creepiness! Then there's the Myrtles Plantation in St. Francisville, Louisiana, an historic plantation home that was transformed into a hotel, and said to have at least 12 ghosts haunting it, one of them a woman who has been heard crying and another of a vengeful slave who once resided at the plantation.
These few well known haunted spots are just the beginning of the paranormal paradise that is the U.S. – no matter where you're residing or traveling to for ghost-hunting purposes, there's all kinds of spirits lingering throughout every region. Some states even feature towns and cities that are well known for their spooky stories, including Salem, Massachusetts in the Northeast, which gained fame after the Salem Witch Trials in the 1690s. Salem is also home to the infamous Lizzie Borden House, where Lizzie's father and stepmother were murdered with an axe, believed to be by the young Lizzie herself. A spot full of history, it's no surprise that many paranormal enthusiasts have Salem on their bucket list.
And for those who are searching for ghost stories in the South, New Orleans, Louisiana is rich with history and even richer with hauntings. This is where you'll find the LaLaurie Mansion and Lafitte's Blacksmith Shop, which is believed to be haunted by famed Voodoo Priestess, Marie Laveau. Savannah, Georgia is another Southern spot on America's East Coast that boasts ghost stories that date back to centuries ago and the historic town of Williamsburg, Virginia is a popular destination as well. With all of these spots throughout the United States, from California's Golden Coast, through the Midwest, to the East Coast, it's fair to say that the haunted options are absolutely endless. So no matter what you're in search of, Haunts.com features all of the best paranormal hot spots one can think of! Happy haunting!
Looking for the Best Halloween Haunted Attractions across the US? Click here for 2016's Top Haunts for All 50 States!