Azra Chamber of Horrors Haunted House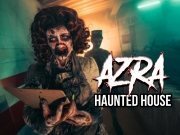 Azra Chamber of Horrors Haunted House
31401 John R Rd
Madison Heights, MI
Click To Call
734-718-0088
Review Us

Metro Detroit's Newest and Scariest Fully Themed Haunted House located in Madison Heights.

The story goes that many years ago in Azra there were countless battles in the Quest of Lasers. When finally the light had gone and all that remained was darkness it left the people of Azra trapped inside, their souls held hostage by a mighty dragon that would never let them escape. The dragon fed on their fears and summoned demons to unleash relentless terror onto Azra. A demon for each chamber to the maze to feed the dragon's never ending hunger.

Enter at your own risk! Can you defeat the dragon and his demons? Each step you take, each chamber you conquer is one step closer to your freedom... or will you be trapped like the people of Azra in the Chamber of Horrors!

Come check out the newest Haunted House in Metro Detroit! This crazy multi-level maze of haunted house was formally one of the greatest laser tag arenas around. Formally known as Laser Warp and before that Laser Quest, it is now transformed into Azra Chamber of Horrors Haunted House!
September 2019
Su
M
Tu
W
Th
F
Sa
1
2
3
4
5
6
7
8
9
10
11
12
13
14
15
16
17
18
19
20
21
22
23
24
25
26
27
28
29
30
October 2019
Su
M
Tu
W
Th
F
Sa
1
2
3
4
5
6
7
8
9
10
11
12
13
14
15
16
17
18
19
20
21
22
23
24
25
26
27
28
29
30
31
November 2019
Su
M
Tu
W
Th
F
Sa
1
2
3
4
5
6
7
8
9
10
11
12
13
14
15
16
17
18
19
20
21
22
23
24
25
26
27
28
29
30
Latest Reviews
Definitely one to go check out! Fully themed multi level haunt with really great actors and tons of cool props. There's even a slide down from the second level 3D area!

Posted Sep 2018