2016 Top Haunted Houses & Attractions for Iowa - Haunts.com
February 22, 2017 By Haunts.com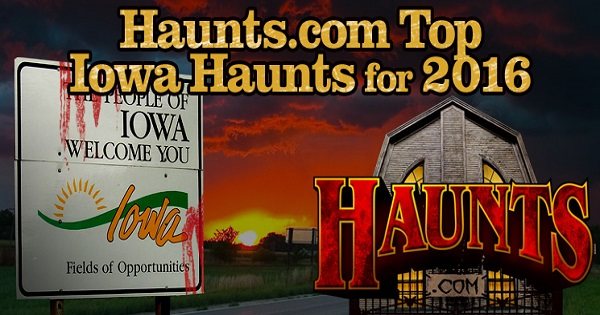 2016 Iowa Must See Attractions > 2016 Must See Attractions in the US
With dozen of haunts calling Iowa home, it wasn't easy to pick such a short list of Haunted Attractions for the Must See Iowa Haunts that gave locals heart-pounding fun during the 2016 Halloween Season. Tons of terror was delivered all season long to thrill seekers, whether they resided in Cedar Rapids, were looking for frightening fun in Des Moines, or thrills and chills in Council Bluffs, the seasonal fun was endless!

With so many scary-good attractions throughout The Hawkeye State, it's hard to visit them all in just one Halloween Season. To make things a bit easier for when locals go searching for a Haunted Attraction to check out this year, Haunts.com has put together a list of Must See Haunted Attractions throughout Iowa that received outstanding customer reviews and ratings in the 2016 Halloween Season. Take a look at the list below so you don't miss out on the biggest and baddest scares of the 2017 Halloween Season!
Top Pick for the 2016 Halloween Season: Eldora Haunted Hospital, Eldora, IA





Eldora Haunted Hospital is presented by the Eldora Rotary Club and is situated inside the abandoned wing of a hospital. Dubbed the #1 Top Overall Attraction in 2015 on IowaHauntedHouses.com, this medical-themed haunt features eerie mazes, spooky scenes and ghoulish creatures from your very worst nightmares.
Each Halloween Season, the Eldora Haunted Hospital takes place as a fundraising event and scares for a good cause. The attraction also offers flashlights during the first hour of each night for the little ones to enjoy before the big scares take place!

Type: Haunted Houses | Read More | Visit Website | Share Review

---
While these haunts may not have snagged the #1 Spot for the 2016 Halloween Season, the race was tight, and all of our Top Haunts for 2016 are worth visiting this season if you can!
---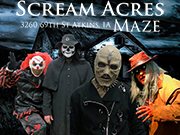 Scream Acres - Atkins, IA
Located in Atkins, Scream Acres features four hair-raising attractions at one great location. A Top Overall Attraction Nominee on IowaHauntedHouses.com in 2015, Scream Acres features Cell Block Z, a zombie-infested prison, Carnival Chaos, a 2,800 square foot carnival themed haunt, The Slaughterhouse, which features scenes of horror and angst and The Cornfield, a mile long Haunted Corn Maze that is sure to test your limits. You never know who will be waiting around each corner!

Type: Haunted Houses, Mazes, Scream Parks | Read More | Visit Website | Share Review
---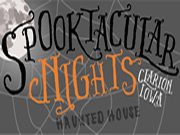 Spooktacular Nights Haunted House - Clarion, IA
Spooktacular Nights Haunted House is presented by the Clarion Chamber of Commerce and is an all-volunteer run haunt. Filled with surprises and scares, this Haunted Attraction takes place at Lions Park, which is popular for its family-friendly events and sports games, but on select nights in October, it is transformed into a Halloween lover's paradise. Also offered during the Spooktacular Nights is a "Boo's & Brews" event for those 21 and older and an "Enchanted Family Fun Night."

Type: Haunted Houses, Spook Walks | Read More | Visit Website | Share Review

---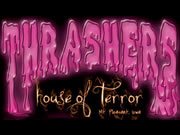 Thrashers House of Terror - Mount Pleasant, IA
Located on Thresher Road in Mount Pleasant, this Haunted Attraction is completely ran by volunteers who love the Halloween Season as much as you do. The attraction doubles as a fundraiser for the Midwest Old Threshers Organization and has been delivering scares to locals since 2007. The funds raised during the Halloween time go toward new buildings and preserving the grounds at McMillan Park. What better way to enjoy some frightening fun than to help give back to your community at the same time?
Type: Haunted Houses | Read More | Visit Website | Share Review

---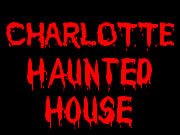 Charlotte Haunted House - Charlotte, IA
Charlotte Haunted House takes place inside an abandoned elementary school, which is creepy enough, even without the Halloween Season terror taking place! An attraction not for the faint of heart, this haunt was created to scare even the bravest of thrill seekers. Will you be able to complete the entire attraction? Or will you call it quits after coming face to face with the creepy creatures that call the elementary school home?

Type: Haunted Houses | Read More | Share Review
---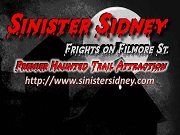 Sinister Sidney - Frights on Filmore - Sidney, IA
Located on Filmore Street in Sidney, Sinister Sidney forces thrill seekers to embark on a 15-45 minute horror-filled venture through forest and farm. The trail is self-paced and located on the old haunted Canon property. The adventure takes visitors through Spider Hollow, past the Hillbilly Shack, into the Pen and Slaughter House, and across the Torture Fields. Then comes the bonfire, where you can sip on some hot cocoa and relax after all the scares! But that isn't the end of the frightening fun - then there's the Laser Tunnel, Freddy's Freak Fest, Post-Apocalyptic War Zone and the Graveyard! Can you make it through them all?

Type: Haunted Houses | Read More | Visit Website | Share Review
---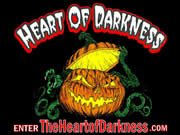 The Heart of Darkness - Waterloo, IA
Waterloo's Heart of Darkness attraction boasts 22,600 square feet of pure terror. Both indoor and outdoor, thrill seekers can take on ten separately themed areas at The Heart of Darkness, if they can make it through them all! Attractions include Coffin Corridor, Mausoleum Maze, Heartland's Haunted Horrors Barn, 3D Killer Circus, Grizzly's Chainsaw Massacre, Darkhold Castle, Freddy's Bus, Zombie Infestation Forest and House of the Walking Dead. Also offered at The Heart of Darkness is the Black-Out Tour, for those who are extra brave! And for the little ones, there's the Trick or Treat Tour which features toned-down scares for the entire family to enjoy together.

Type: Haunted Houses, Mazes, Scream Parks | Read More | Visit Website | Share Review
---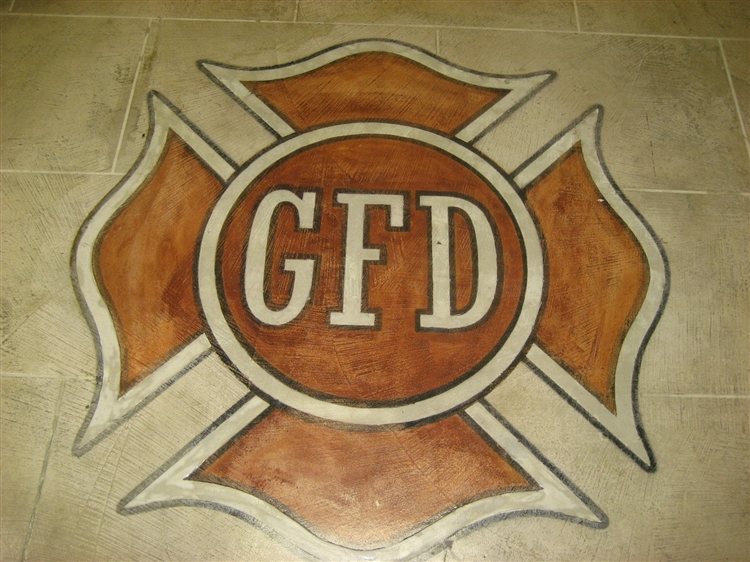 Garrison's Haunted Mansion - Garrison, IA
A Top 10 Rated Attraction Nominee on IowaHauntedHouses.com in 2015, Garrison's Haunted Mansion is an attraction that is run by the firefighters of Garrison. In 2016, the haunt took place in an eerie warehouse on the city's Main Street and was a fun way for the community to celebrate the spookiness of the Halloween Season. Proceeds from the Haunted Mansion are used for the purchase of firefighting and emergency response equipment for the Garrison firefighters. Enjoy some thrills and chills, all for a great cause!

Type: Haunted Houses, Zombie Shoot Outs, Mazes, Spook Walks | Read More | Visit Website | Share Review
---
Looking for More Scary Good Fun in Iowa?
Check Out Haunts.com's Iowa Haunted House & Attraction Guide Here!