2016 Top Haunted Houses & Attractions for New York - Haunts.com
April 19, 2017 By Haunts.com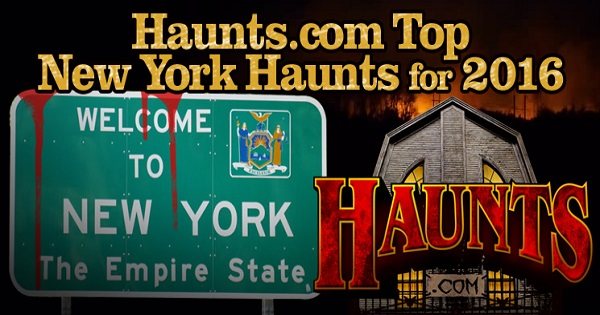 2016 New York Must See Attractions > 2016 Must See Attractions in the US
New York is home to so many Haunted Attractions, which didn't make it an easy task to decide which would be listed on our Top New York Haunts for the 2016 Halloween Season! For thrill seekers in New York, there's no shortage of scary-good fun, whether you're looking for big scares in New York City and its boroughs, thrills & chills up in Albany, or frightening fun on Long Island, the state of New York boasts more impressive Haunted Houses and Halloween Attractions than you'll be able to visit in just one season. To make things a bit easier, Haunts.com has put together our list of the Top Haunted Attractions in New York for the 2016 Halloween Season, so that you know what haunts you won't want to miss out on this upcoming Halloween Season.
Top Pick for the 2016 Halloween Season: Bayville Scream Park - Bayville, NY



Located on Long Island at Bayville Adventure Park, this Haunted Attraction transforms the entire park into a Halloween Lover's paradise and offers endless adventure for thrill seekers to enjoy all throughout the Halloween Season. Featuring five Haunted Attractions in one great location, with additional fun such as a Pumpkin Patch and Halloween Pumpkin Bounce, there's an array of entertainment and a whole lot of scary-good fun to be had!
With a Top 10 Nominee Award for Top Rated Attraction on NewYorkHauntedHouses.com, Bayville Scream Park offers the Bloodworth Haunted Mansion, Uncle Needle's Fun House of Fear, Temple of Terror, Zombie Pirates and Evil in the Woods for those who have the appetite for fright during the Halloween time. Are you brave enough to venture through them all?

Type: Spook Walk, Haunted House, Mazes | Read More | Visit Website | Share Review

---
While these haunts may not have snagged our #1 Spot for the 2016 Halloween Season, the race was tight, and all of our Top Haunts for 2016 are worth visiting this season if you can!

---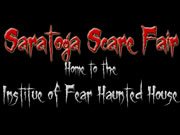 Saratoga Scare Fair & The Institute of Fear - Ballston Spa, NY

This 8,000 square foot Haunted Attraction is designed to test your worst fears and phobias. Voted one of the Scariest Haunts in the 518 area code by The Albany Times Union, the indoor attraction uses its visitors for their experiments while finding out just what it is that they're afraid of. Would you be able to make it all the way through while getting up close and personal with the things that scare you the most?

Type: Haunted Houses | Read More | Visit Facebook Page | Share Review
---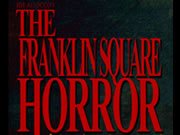 Joe Alloco's The Franklin Square Horror - Franklin Square, NY
This Home Haunt is surely one like no other. Deemed one of the Scariest Home Haunts in America by Fearnet.com, this attraction has been featured in New York's Newsday, The Franklin Square Herald, on Fox 5 News, News 12 Long Island, TV 10/55 News, Fios 1 - Heroes of our Island and is sponsored by The Long Island Press. As for awards, The Franklin Square Horror won First Place for Best Haunted House on Long Island in Bethpage Federal Credit Union's Best of Long Island Contest for three years in a row! Featuring hundreds of feet of pure terror, this walk-through is not for the faint of heart, as you'll be forced to explore the Haunted Foyer, The Autopsy Room, the Crematorium, and a "special" viewing in the Coffin/Wake Room! The haunt is not only absolutely terrifying, but it's free to enter and accepts donations toward Autism and Cerebral Palsy Foundations - scaring for a great cause!

Type: Haunted Houses, Hay Rides, Spook Walks | Read More | Visit Website | Share Review

---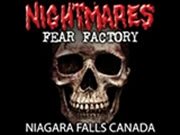 Nightmares Fear Factory - Niagara Falls, NY
Famous for thousands of visitors who "chicken out," Nightmares Fear Factory is located at the top of Clifton Hill and boasts an intense journey through terrifying themes. According to the website's "Survivor Stories," one haunt-goer wrote, "It plays on your psyche and creates an atmosphere of absolute dread and suspense." All of your worst fears in one location, would you be able to make it out? Or will you join list of thousands who couldn't make it through?
Type: Mazes, Haunted Houses, Spook Walks | Read More | Visit Website | Share Review

---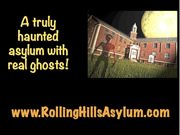 Rolling Hills Asylum - East Bethany, NY
Located in a believed-to-be truly haunted asylum, Rolling Hills features a theatrical-style haunted attraction that may even feature some real-life ghosts! Haunted North America rated the spot as the #1 Most Haunted Asylum in the country and it is a paranormal hotspot for enthusiasts. It is known for its Shadow People, disembodied voices, EVP's, doors that slam on their own and the infamous "Screaming Lady." Rolling Hills Asylum will make the hair on the back of your neck stand up, or that may just be the ghosts that are nearby as you make your way through!

Type: Haunted Houses, Mazes, Spook Walks | Read More | Visit Website | Share Review
---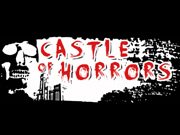 Castle of Horrors - Rochester, NY
This first class Haunted Attraction is made up of 50,000 square feet of themed rooms, corridors, and a labyrinth of passageways designed to maximize your greatest fears. An epidemic has spread and patrons will be screened and test for a "zombie" infection. The CDC has created a safe zone inside the Main Street Armory but due to the epidemic's nature, screening is extremely limited and only takes place on certain days, at certain times. Will you be cleared of the infection?

Type: Haunted Houses | Read More | Visit Website | Share Review
Looking for More Scary Good Fun in New York?
Check Out Haunts.com's New York Haunted House & Attraction Guide Here!