2016 Top Haunted Houses & Attractions for Pennsylvania - Haunts.com
May 17, 2017 By Haunts.com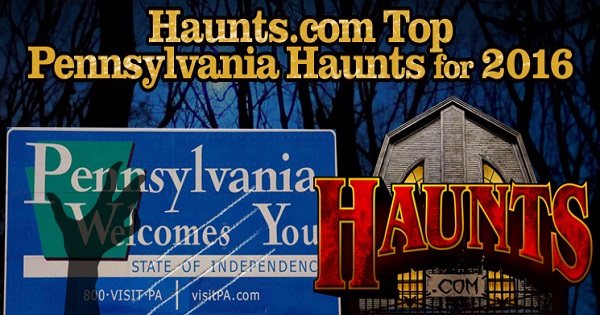 2016 Pennsylvania Must See Attractions > 2016 Must See Attractions in the US
With dozen of haunts calling Pennsylvania home, it wasn't easy to pick such a short list of Haunted Attractions for the Must See Pennsylvania Haunts that gave locals heart-pounding fun during the 2016 Halloween Season. Tons of terror was delivered all season long to thrill seekers, whether they resided in Philadelphia, were looking for frightening fun in Pittsburgh, or thrills and chills in Scranton, the seasonal fun was endless!

With so many scary-good attractions throughout The Quaker State, it's hard to visit them all in just one Halloween Season. To make things a bit easier for when locals go searching for a Haunted Attraction to check out this year, Haunts.com has put together a list of Must See Haunted Attractions throughout Pennsylvania that received outstanding customer reviews and ratings in the 2016 Halloween Season. Take a look at the list below so you don't miss out on the biggest and baddest scares of the 2017 Halloween Season!
Top Pick for the 2016 Halloween Season: The Haunting at Elks Lodge #714 - Bridgeport, PA





Rated the #1 Top Overall Attraction in 2015 on PAHauntedHouses.com, The Haunting of Elks Lodge #714 is situated in a building that dates back to 1900 and is home to some unusual occurrences, including an exorcism of the building itself. Every October, the historic location in the heart of Montgomery County transforms into a Halloween Haunted House by the non-profit organization, Elks.
The Haunting of Elks Lodge creates fresh and frightening scares each year, giving thrill seekers a completely new experience from the year before. Do you have what it takes to venture through the Elks Lodge as it's infested with creepy creatures of all kinds? All while being in an already super creepy building that may just have some resident ghosts of its own!

Type: Haunted Houses | Read More | Visit Website | Share Review

---
While these haunts may not have snagged the #1 Spot for the 2016 Halloween Season, the race was tight, and all of our Top Haunts for 2016 are worth visiting this season if you can!
---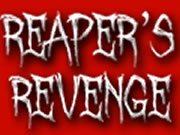 Reaper's Revenge - Scranton, PA
This 60-acre Haunted Attraction in Scranton boasts a Haunted Hayride, Dark Forest, Pitch-black Maze and a Zombie Apocalypse, all at one location. With these four terrifying attractions, locals can enjoy more than 90 minutes of pure terror to celebrate the Halloween Season. You'll begin your journey through the woods on the Haunted Hayride, then enter the Lost Carnival where the freaks and clowns reside, then to the Tunnel of Love and into a pitch-black, indoor maze. Once you've found your way out of the maze, you'll be forced to make your way through Sector 13, the post-apocalyptic wasteland maze! Will you be able to complete all four attractions or will you run and hide?

Type: Haunted Houses, Hayrides, Spook Walks | Read More | Visit Website | Share Review
---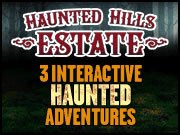 Haunted Hills Estate - Uniontown, PA
Take on three interactive Haunted Attractions at Haunted Hills Estate, including Challenge Trail - The Curse, a trail in the shadowy woods where witches have cast a curse over the area. Will you be able to break the wicked curse? In the Legends Hotel, come in contact with the serial killers that have checked in there, and are anxiously awaiting your arrival. Then in The Twisted Nightmare Escape Room, you must try and escape before Jinxie the Clown's alarm clock goes off. He isn't a fan of strangers and is a killer clown, so you better hope you escape in time so you don't become his next victim!

Type: Haunted Houses, Escape Rooms, Spook Walks | Read More | Visit Website | Share Review

---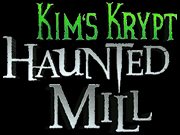 Kim's Krypt Haunted Mill - Spring Grove, PA
Located on 64 acres, Kim's Krypt Haunted Mill is home to five unique attractions, including the Haunted Mill, Kim's Krazy Maze, Horror of Menges Mill, House of Eyes , Terror Trail and the new side attraction that was announced in 2016, Dark Despair. Kim's Krypt also offers a 13 hour, overnight Horror Kampout during the Summer, giving Spring Grove locals a unique way to satisfy their appetite for fright months before the Halloween Season arrives!
Type: Haunted Houses, Spook Walks, Mazes | Read More | Visit Website | Share Review

---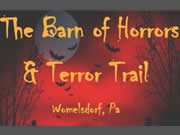 Barn of Horrors and Terror Trail - Womelsdorf, PA
A nominee for the Top 10 Rated Attractions on PAHauntedHouses.com in 2015, Barn of Horrors and Terror Trail is run by The Womelsdorf Area Community Association. Delivering tons of terror for over 20 years, they sure know how to scare locals, enough to have them coming back for more year after year. This old fashioned haunt is a great way to give back to your community, all while enjoying the thrills and chills that are in store each and every Halloween Season.

Type: Haunted Houses, Spook Walks | Read More | Visit Website | Share Review
---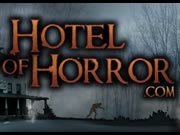 Hotel of Horror - Saylorsburg, PA
Saylorsburg's Hotel of Horror features three state of the art attractions, all located inside the abandoned Lake House Hotel. This centuries old mountain resort has some terror lurking within its walls, do you have what it takes to wander through its rooms? Attractions include the Namesake Attraction, The Hotel of Horror, The Prodigal Child Attractions and The Exhibition Macabre, which are static displays of history's experiments in practicing medicine, preparing the dead and memorializing life.

Type: Haunted Houses | Read More | Visit Website | Share Review
---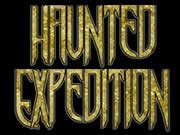 Haunted Expedition - Wexford, PA
Located at Shenot Farm, the Haunted Expedition brings locals on a Haunted Hayride that takes them to a town trapped back in time and plagued by demons. Will you be able to escape, or will you become one of the townspeople who are trapped there forever, with no way back to the future? This Haunted Attraction also features a Haunted Trail and a Corn Maze/Trail.

Type: Haunted Houses, Hayrides, Spook Walks | Read More | Visit Facebook Page | Share Review
---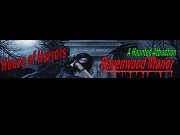 Ravenwood Manor - Beccaria, PA
Formerly known as the Haunted Mansion, Ravenwood Manor features tours through three floors of mayhem, each invaded by monsters straight out of your very worst nightmares. Each tour delivers approximately 26 minutes of scares - that is, if you can make it through the entire thing! The attraction also offers refreshments and beverages for purchase, including hot dogs, sloppy joes, nachos and cheese, chips, candy, hot chocolate, coffee and soda.

Type: Haunted Houses | Read More | Visit Website | Share Review
---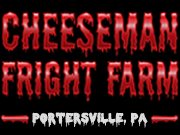 Cheeseman Fright Farm - Portersville, PA
Cheeseman Fright Farm of Portersville has been sending scares for more than a decade and creates new and exciting layouts and themes each year. Along with the frights, they also offer Daytime Family Friendly fun, including hayrides, a petting zoo, pumpkin picking, a hay jump, a wagon and tractor, a concession stand and much more!

Type: Haunted Houses, Mazes, Spook Walks, Family Friendly | Read More | Visit Website | Share Review
---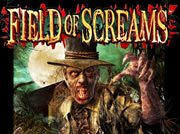 Field of Screams - Mountville, PA
Mountville's Field of Screams boasts a number intense haunted attractions and an entertainment area with endless activities. Delivering heart-pounding fun since 1990, the crew at Field of Screams comes up with new horror year after year, giving locals new experiences when they come back for me. Attractions include the Den of Darkness, Haunted Hayride, Nocturnal Wasteland, Frightmare Asylum and Extreme Blackout. Are you brave enough to complete each one? After you do, then enjoy some time in the Field of Screams Entertainment Area!

Type: Haunted Houses, Hayrides, Spook Walks| Read More | Visit Website | Share Review
---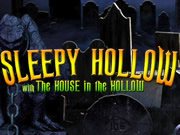 Sleepy Hollow - Newtown, PA
Featuring three Haunted Attractions and a scary-good bonfire, Sleepy Hollow in Newtown offers an array of fun all in one great location. Attractions include the Sleepy Hollow Haunted Hayride, where a hay wagon takes visitors through the dark fields and woods of the 230 acre farm, the Haunted House in the Hollow, which has 17 rooms, a family greenhouse and cemetery - all believed to be extremely haunted. Then there's the Field of Fright, where a dark path leads you through the corn - but beware, as you never know who is lurking throughout the field!

Type: Haunted Houses, Hayrides, Mazes | Read More | Visit Website | Share Review
---
Looking for More Scary Good Fun in Pennsylvania?
Check Out Haunts.com's Pennsylvania Haunted House & Attraction Guide Here!