A New Alternative to the Gluten-Free Halloween Candy Dilemma: It's Divine Treasures Chocolates
August 14, 2019 By Chris B.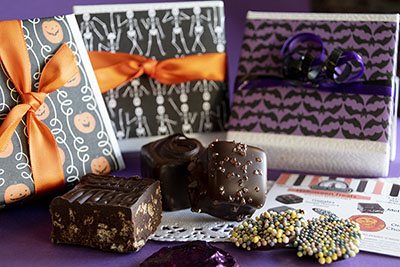 Halloween Chocolate Collection For Kids And Adults.
Photo by:
prlog.org
With so much attention on health and nutrition these days, it's difficult to decipher what truly are the best alternative Halloween treats for you and your children suffering from gluten-intolerance or Celiac Disease. This summer, there have been recently published articles about the dangers of pre-packaged gluten-free (GF) products with high levels of sugar and low nutritional value. Last year, one reporter from a reputable news source listed their top Halloween candy picks highlighting mostly gummies and hard candies, offering little for chocolate lovers.
Sources have also reported that gluten intolerance issues such as Celiac Disease affects 1 in 100 people in the US. While offering gluten-free products is solving a widespread problem, seemingly with little health benefits, and for others, they still require more specific alternatives.
Once a year, Divine Treasures, LLC in Manchester, CT comes out with their Halloween Chocolate Collection. Made entirely of organic European dark chocolate, Diane Wagemann, has designed this collection to meet the specific needs of her customers. The chocolates are gluten-free, have no refined sugars, and are not made with dairy, so they are also vegan. She has preserved the natural cacao flavor using Halloween-themed molds such as witches, ghosts, skulls, bats and cats. Health-wise, they offer extra health benefits of the antioxidants found in dark chocolate. They can be bought directly at the Divine Treasures Chocolate Shop in Manchester, CT or from their website, dtchocolates.com. And for the parents, she's put together a special giftbox with a few favorites from other Divine Treasures chocolate collections.
Divine Treasures, LLC has been featured in the New York Times, Boston Globe and was the winner of the PETA best chocolate award last year and a winner of the 2018 Best of Hartford's Reader's Poll Awards. Offering Gluten-Free and Vegan chocolates, soft serve and cheese as well as baked goods, pizzas, soups and homemade meals. Diane says "we don't just make chocolates, we make divine treasures!"