Creepy Halloween Invitation Guide for Kid and Adult Parties
July 24, 2019 By Chris B.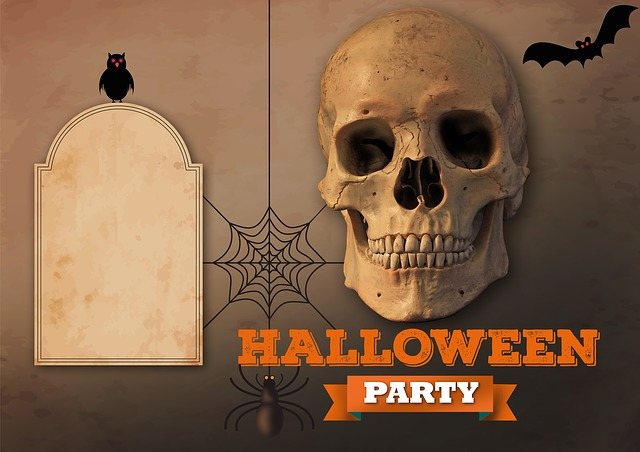 After deciding to host a party for Halloween, you will want to ensure your invitation cards are customized with the most creative and spooky invitations wordings to ensure you invited guests will know all the details.
Photo by:
stux
Even though it's currently summer, Halloween will soon be just around the corner. It will soon be time to begin your Halloween party planning and start thinking about the spookiest and most ideal invitations for Halloween for your celebration. Whether you decide to use online websites or shop at your local retail store for your affordable ghostly party invitation cards, your personalized ghoulish invite cards will set the tone and mood for your party.
Considerations for Planning Your Halloween Holiday Party
As you begin your planning process, there are oh so many details such as: the distinction between kids and adults parties; deciding on just the right shocking invitation design and theme; what words to use in your customized invite; if costumes should be encouraged; and the food, refreshments, and decorations, to list just a few. Consider these options to help you out.
Halloween Party Invitations and Details for Children
These spooky, but not too scary, Halloween invites for kids should be colorful, mildly frightening, and playful. You might consider stick to those designs that include pictures of werewolves, vibrant vampires, and ghouls. Just ensure your invite designs are exciting and fun, but not too scary. Generally, a child will appreciate and enjoy an invitation with a theme of a recognizable character or cartoon, such as Harry Potter.
Adult Party Planning and the Spookiest of Spooky Halloween Invites
For the adult parties, you might consider sticking to the more outrageous and creative horrifying invitation designs and adding interesting fonts. You will want to ensure these personalized invitations are less 'busy' as the children invitations; instead focus on conveying the party theme and events such as costume party, cocktail party, dance party, potluck, and so on. For these Halloween themed invitations, your custom wording is more important than the aesthetics. Nevertheless, you will certainly want to include any unusual features or options about your party that might affect what guests should bring or how guests should dress. Even for spooky parties at this time, your guest will appreciate knowing know what to expect.
Wording Your Party Invitations for Halloween
When you begin personalizing and thinking about your custom Halloween invitation wording, you will want to remember what type of party you are hosting and who your guests are. One of the more significant considerations is to remember that your grisly invitation wording should be as succinct and as clear as possible, while maintaining your lighthearted and party tone. After all, it's a party, so you will want to be mindful that whatever wordings you write will only benefit you in the long run. The clearer you are with your words, the fewer guest's questions you'll have to answer later.
Halloween Costumes Considerations
Perhaps, one of the biggest and most significant elements for every invitation for Halloween party to include is about costuming. If you prefer you guests to dress up in costumes, be sure your invites include this request. Consider adding wordings such as, 'remember to wear your costume' or 'be ready for costume contest'. Or, if you prefer a bit less pressure and lighter tone, consider, 'costumes encouraged, but not required'.
Food and Drinks for Spin-Chilling Halloween Celebration
Your invite wording should specify if any type meal will be served, or if you would like your guests to bring a food tray or drinks. If you do, please refer to your event as a potluck since your invited guest are asked to bring a dish. If you are providing all the food and drinks, then your invitation wordings should include, 'cocktails and hors d'oeuvres will be served'.