Upcoming Halloween Trade Shows & Conventions Throughout the U.S.
September 20, 2017 By Chelsea T.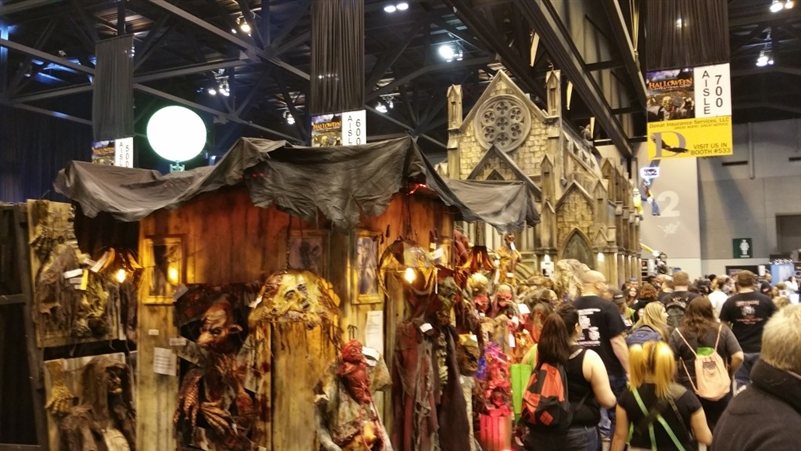 For those who enjoy the Halloween and Haunting Season as much as we do, we do our best to find ways to keep the spooky spirit alive all throughout the year. Attending Halloween Conventions and Trade Shows is a fun way to celebrate and gives both thrill seekers and haunt owners a chance to check out some pretty awesome props, sets, animatronics, advertising opportunities and more. Take a peek at some upcoming shows happening throughout the rest of this year, and in 2018, too!
New Jersey Horror Con & Film Festival
Dates: September 22nd-24th, 2017

Address: Renaissance Woodbridge Hotel, 515 US-1, Iselin, New Jersey
Monster-Mania Convention
Dates: September 29th-October 1st
Show Floor Hours:
Autograph Hours: Friday 5PM-10PM, Saturday 10AM-6PM, Sunday 10AM-5PM
Dealers Room: Friday 5PM-10PM (Pre-show opens @ 4PM), Saturday 10AM-7PM (Pre-show opens @ 9AM), Sunday 10AM-5PM
Films/Events Hours: Friday 5PM-2AM, Saturday 10AM-2AM, Sunday 10AM-5PM
Address: Delta Hotel Marriott (Formerly the Hunt Valley Inn), Hunt Valley, Maryland
IAAPA Attractions Expo
Dates: Conference: November 13th-17th | Trade Show: November 14th-17th
Show Floor Hours:
Tuesday, Nov. 14: 10am - 6pm
Wednesday, Nov. 15: 10am - 6pm
Thursday, Nov. 16: 10am - 6pm
Friday, Nov. 17: 10am - 4pm
Address: Orange County Convention Center, North & South Buildings - 9899 International Drive, Orlando, Florida
Halloween Retail and Party Show
Dates: January 12th-15th, 2018
Show Floor Hours:
Friday, Jan. 12th: 9:00 AM-5:30 PM
Saturday, Jan. 13th: 9:00 AM-5:30 PM
Sunday, Jan. 14th: 9:00 AM-5:30 PM
Monday, Jan. 15th: 9:00 AM-2:00 PM
Address: Ernest N. Morial Convention Center, 900 Convention Center Blvd., New Orleans, Louisiana
Corn Party - Corn Mazes & Entertainment
Dates: March 1st-3rd, 2018
Address: Chicago Marriott Southwest at Burr Ridge, 1200 Burr Ridge Pkwy, Burr Ridge, Illinois
HauntCon
Dates: January 12th-15th, 2018
Address: Ernest N. Morial Convention Center - 900 Convention Center Blvd., New Orleans, Louisiana
TransWorld's Halloween & Attractions Show
Dates: March 22nd-25th, 2018
Trade Show Floor Hours:
Thursday, March 22nd: 10AM - 5PM
Friday, March 23rd: 10AM - 5PM
Saturday, March 24th: 10AM - 5PM
Sunday, March 25th: 10AM - 2PM
Address: America's Center at 701 Convention Plaza, St. Louis, Missouri
West Coast Haunters Convention
Dates: April 13th-15th, 2018
Show Floor Hours:
Friday, April 13th: 10:00 AM-5:00 PM
Saturday, April 14th: 10:00 AM-5:00 PM
Sunday, April 15th: 10:00 AM-4:00 PM
Address: Hotel DoubleTree - 1000 NE Multnomah St. Portland, OR
Midwest Haunters Convention
Dates: June 26th & 27th, 2018
Show Floor Hours:
Saturday June 26th: 9:30 am - 5:00 pm
Sunday June 27th: 10:00 am - 3:00 pm
Address: Greater Columbus Convention Center, 400 N. High Street, Columbus, Ohio