Ten Most Haunted Places Throughout Iowa
June 22, 2017 By Chelsea T.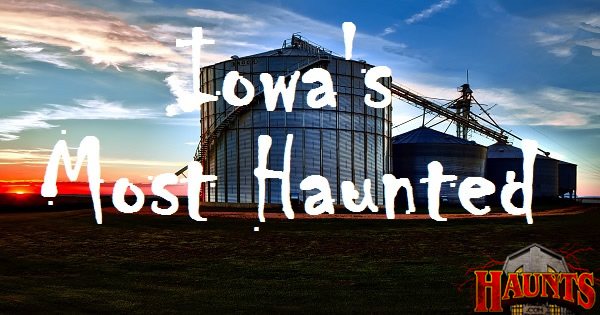 Home > Haunted Places > Iowa Haunted Places
Who doesn't love a good ghost story? Well, in Iowa, there's a whole lot of them! From hospitals and asylums, to cemeteries, schools, theaters, restaurants, parks, bridges, and even roads, there's an endless amount of places throughout the state that are said to have some ghostly spirits lingering.
Some of these creepy spots are located in the biggest of cities that everyone knows about, and others in small towns that only locals may know of. Take a peek below to check out our Top 10 Haunted Places in the state of Iowa!
1. KD Station - Sioux City, IA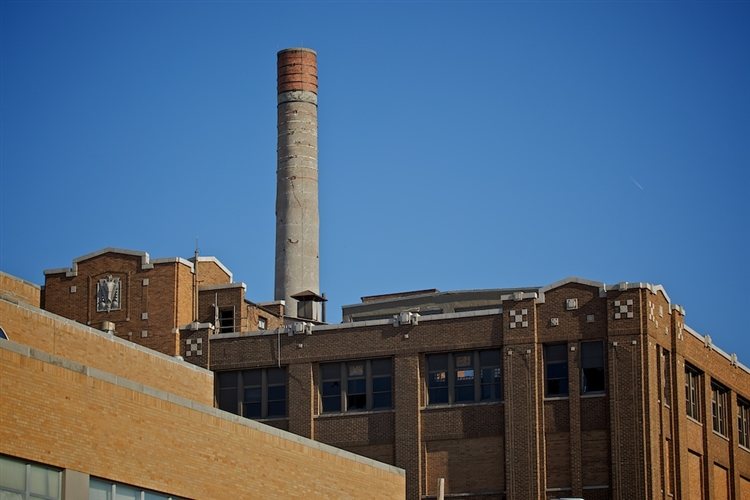 Photo by JD Gordon, via Flickr

The KD Station building dates back to the early 1900s and was first used as a meat-packing plant before being transformed into a packing operation. A gas leak occurred in 1949 and the explosion killed several people, which may be the reason for the haunting claims. It was added to the National Register of Historic Places in 1979, just five years after the plant closed down and was purchased by a Sioux City businessman and converted into an enclosed mall, the KD Stockyards Station. After fire and water damage in the early 2000s, the building was forced to close down and was demolished in 2010. The ghost that is said to have haunted the place liked to turn the lights on after they were turned off and for many years, the owners of the building printed on their brochure: "Paul Pulaski, our in house ghost, welcomes you."

2. Independence State Hospital - Independence, IA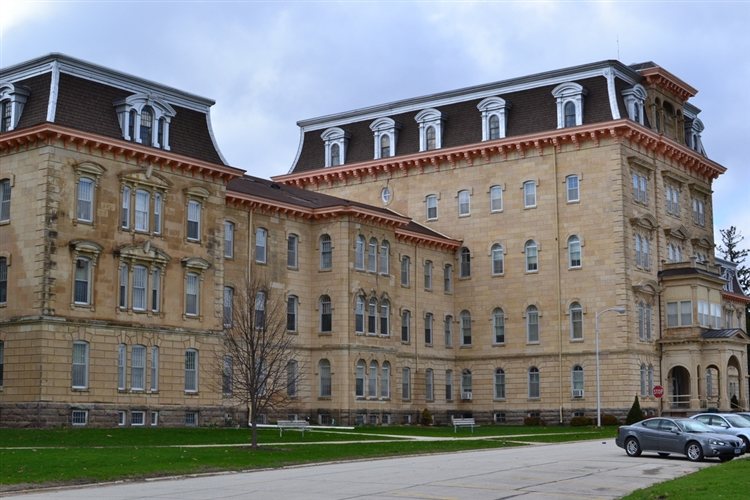 Photo by kc7fys, via Flickr

Built in 1873 as Iowa's second asylum, the Independence State Hospital was created to help the overcrowding issue at the hospital in Mount Pleasant, and to hold alcoholics, geriactrics, drug addicts, mentally ill, and the criminally insane. It has been called a number of different names, including The Independence Lunatic Asylum, The Independence State Asylum, The Independence Asylum for the Insane, The Iowa State Hospital for the Insane, and The Independence Mental Health Institute. A labyrinth of underground tunnels also connects every building on the grounds.

Like most asylums during its time, it has a dark history and patients were subjected to harsh conditions and forms of treatment, including lobotomies. People who have toured the building where the lobotomies and electric shock therapies took place have claimed to feel cold drafts and sense that someone or something is watching them. Disembodied voices have also been heard screaming in this area.

3. Iowa State University - Ames, IA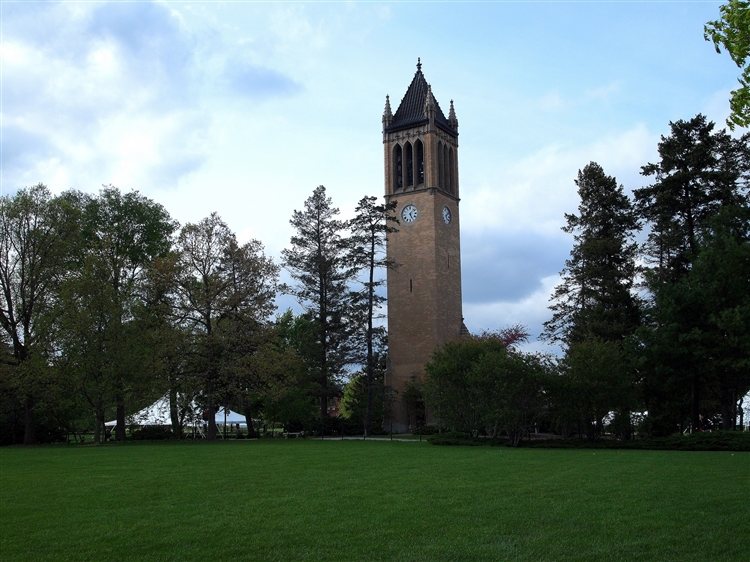 Photo by Joe Wolf, via Flickr

Located in Ames, Iowa State University is the nation's most student-centered public research university. It is also believed to have a number of haunted spots on its campus, including Memorial Union Hall, C.Y. Stephens Auditorium and Friley Hall. Memorial Union is a tribute to the graduate soldiers who died while at war, and witnesses say you can hear a strange, low moan here. Some believe it is the voice of the only woman who ever graduated from the school and then died in World War I.

The auditorium is believed to be haunted by C.Y. Stephen's himself, who has been spotted in the basement tunnels or sitting in the back right corner of the 3rd balcony. Cold spots and footsteps have also been reported in the auditorium. And at Friley Hall, rumor says a student killed himself here and that anyone who is assigned to his room dies or disappears (or maybe it's a legend) but students are still afraid to go into the room, and the school may have even stopped assigning it to people.

4. Villisca Ax Murder House - Villisca, IA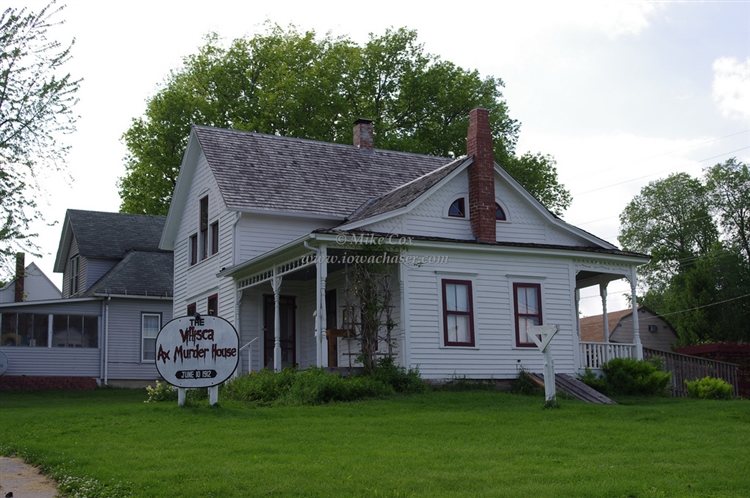 Photo by Mike Cox, via Flickr

The infamous Villisca Ax Murder House is a well known location due to its brutal murders that took place in the home in 1912. Eight people total were murdered, including two adults and six children, all murdered with an ax. A documentary had also been made surrounding the home and its murders, which to this day, remains unsolved. It has been said that the murders were so horrific that the case took the sinking of the Titanic (which occurred about two months earlier) off the front page of the newspaper. The home was also featured on TV's "Ghost Adventures" and now operates as a museum for those who want to step inside and take a look around.

5. Oakland Cemetery - Iowa City, IA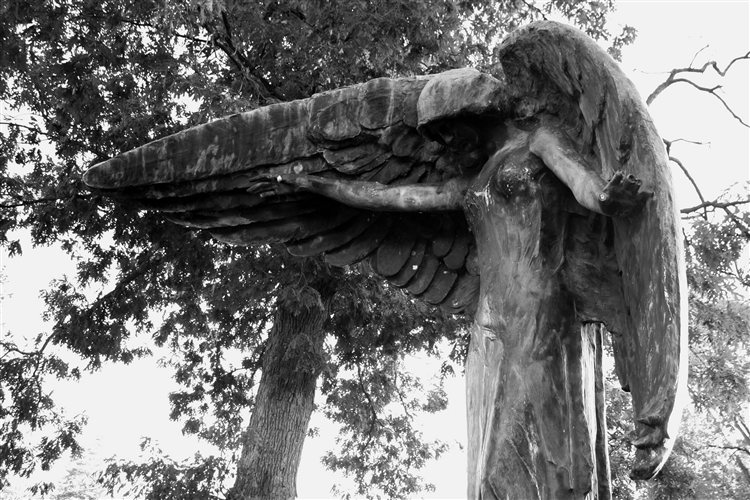 Photo by Derek Bruff, via Flickr

The Oakland Cemetery in Iowa City has served as the main cemetery for the city since 1843. The grounds are believed to be haunted by the Black Angel statue that is located there, and a young girl set on a pedestal. The Black Angel statue has reportedly been seen walking around as a glowing shape and other eerie lights have been seen on the grounds. Stories say the little girl statue will pick out one member of a group of cemetery visitors and stare at that person until they leave. Temperature changes are also related to the girl's statue, if you move closer to it, the warmer you feel, and the colder it gets when you back away.

6. Mathias Ham House - Dubuque, IA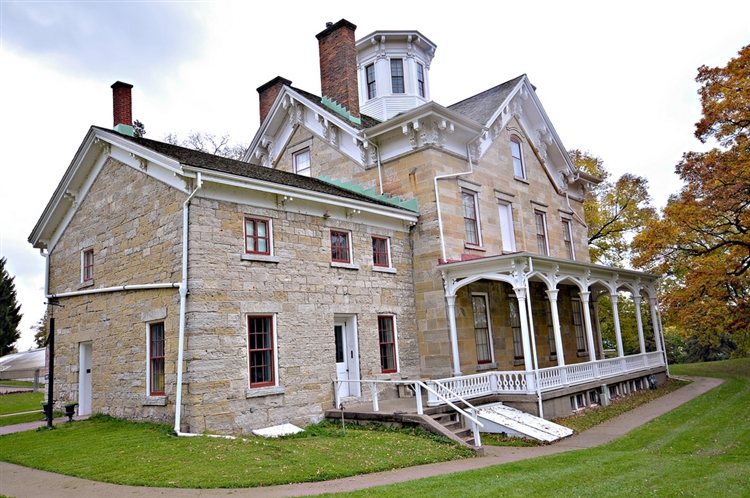 Photo by SD Dirk, via Flickr

This 19th-Century home in Dubuque is located at the intersection of Shiras and Lincoln Avenues, near the entrances to Eagle Point Park and Riverview Park. It was listed on the National Register of Historic Places in July of 1976 and operates as a museum today. It was constructed by a wealthy builder, Mathias Ham (hence the name) in the 1850s. Today it is owned and operated by the Dubuque County Historical Society and is believed to be one of Iowa's most haunted spots.

Stories say at least two different ghosts haunt the building, and reports include mysterious lights that are seen moving throughout the mansion's halls and staircases. Some say it could be Mr. Ham keeping an eye on his place, other say it is the ghost of a pirate who is in search of Sarah, his murderer. Odd noises and feelings of uneasiness are reported here as well.

7. Farrar Schoolhouse - Maxwell, IA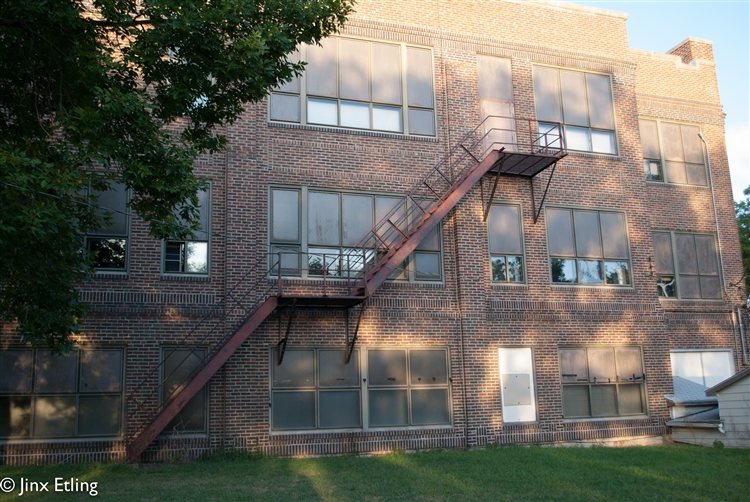 Photo by WindRanch, via Flickr

The Farrar Schoolhouse was once a middle school in the early 1920s, and some say was a place of molestation and abuse. According to Fringe Paranormal, the first graduating class is documented in 1923 and consisted of just five students. The figure of a young boy has been seen in the stairwell, and another ghost has appeared in a photo sitting on the edge of the auditorium stage. Other eerie reports here include the sounds of children laughing and talking. The Paranormal Seekers of Iowa (PSI) group investigated the school and two team members were working on an EVP session when they suddenly spotted two balls of light exit the boiler room, dart across the gym floor and head into the laundry room area. A former janitor of the school also stated that he would hear noises like people were walking around on the lower floor and that he would find the gym lights on.

8. Rainbow Bridge - Lake City, IA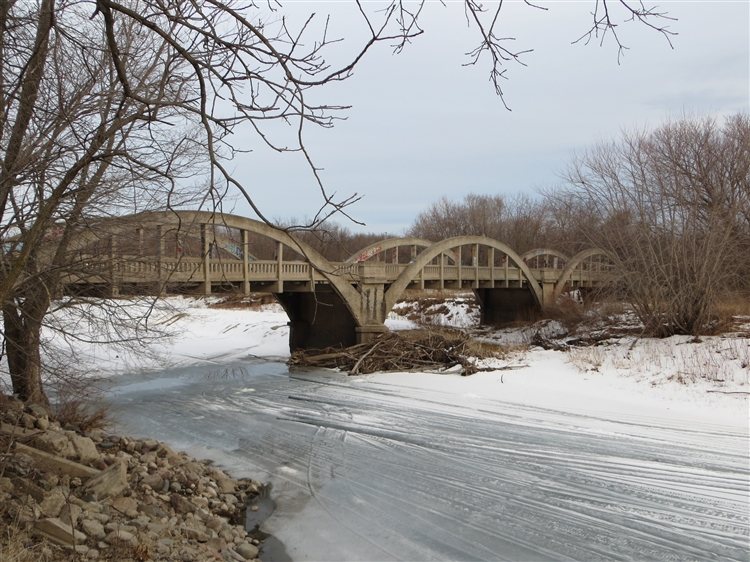 Photo by David Wilson, via Flickr

This arch style bridge located just south of Lake City is also known as the Marsh Rainbow Arch Bridge, the Coon River Bridge and Rainbow Bend Access. It was listed on the National Register of Historic Places in 1989 and sits over the North Raccoon River. It was designed by Des Moines engineer James Barney Marsh in his patented rainbow arch configuration, and constructed by the Iowa Bridge Company in 1914.

The ghost that haunts the bridge is known to love chocolate, and it has been said that if you bring her an unopened chocolate bar at midnight and lay it in the center of the bridge, and leave, that after 5 minutes, the chocolate will be missing from the inside but the wrapper still intact and unopened. The bridge is closed to automotive traffic.

9. Mason House Inn - Keosauqua, IA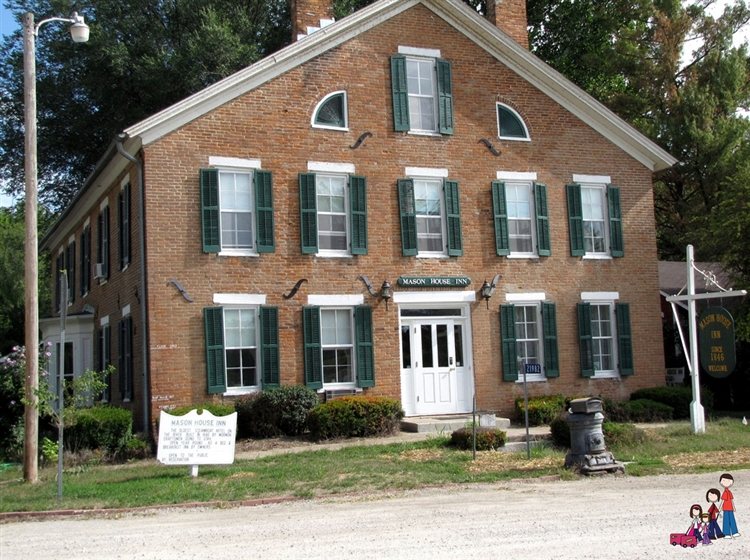 Photo by Jody Halsted, via Flickr

Located on Hawk Drive in Keosauqua, the Mason House Inn is a quaint bed and breakfast that dates back to 1847 and was once a stop on the Underground Railroad. It is rumored that a number of spirits reside at the inn, and that in Room 5, a young boy tugs on people's clothing at night. His apparition has also been spotted on the landing. In Room 7, a man was murdered and his ghost supposedly lingers in that room. In Room 8, a floating head has been seen and in several bedrooms on the third floor, an elderly woman's ghost has appeared.

10. Stony Hollow Road - Burlington, IA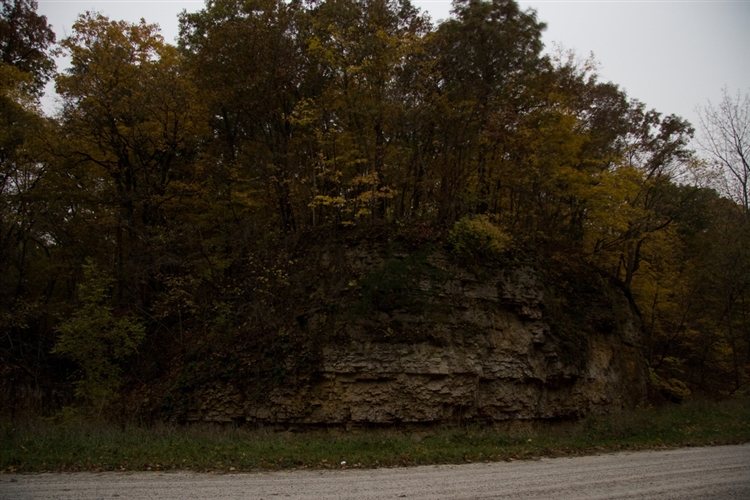 Photo by Bryan Vorkapich, via Flickr

The story of Stony Hollow Road tells the tale of a ghost named Lucinda, who committed suicide by jumping off a cliff. Her and her lover were supposed to meet so they can run away together, but he never showed and she leaped to her death. Local legend says that if you call out her name three times, she will appear and if she drops a rose, you will supposedly die the next day.
Click here to read about more Haunted Places in Iowa!

Disclaimer: Haunts.com does not support or endorse trespassing to visit Real Haunted Places. Before you decide to visit a local real haunt, please make sure to acquire the appropriate permits and/or permissions, and be respectful of properties that are privately owned. A number of Haunt Explorers have been arrested, ticketed and reprimanded by authorities for trespassing, and we don't want that to happen to you! To avoid this, please be sure to contact the property owners before visiting a real haunt, and respect their hours of operation, local rules and regulations. Happy Haunting!