Missouri's Most Haunted: Ten of the Spookiest Spots in The Show-Me State
May 14, 2017 By Chelsea T.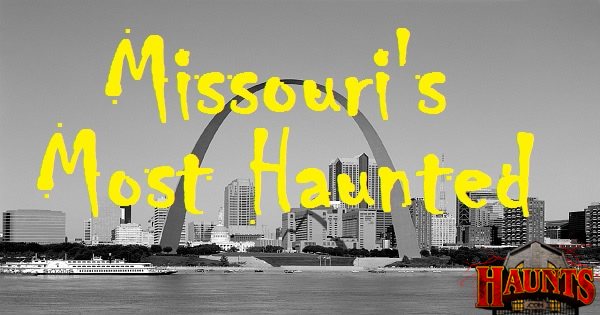 Home > Haunted Places > Missouri Haunted Places
Who doesn't love a good ghost story? Well, in Missouri, there's a whole lot of them! From hospitals and asylums, to cemeteries, schools, theaters, restaurants, parks, bridges, and even roads, there's an endless amount of places throughout the state that are said to have some ghostly spirits lingering.
Some of these creepy spots are located in the biggest of cities that everyone knows about, and others in small towns that only locals may know of. Take a peek below to check out our Top 10 Haunted Places in the state of Missouri!
1. Jefferson Barracks & Cemetery - St. Louis, MO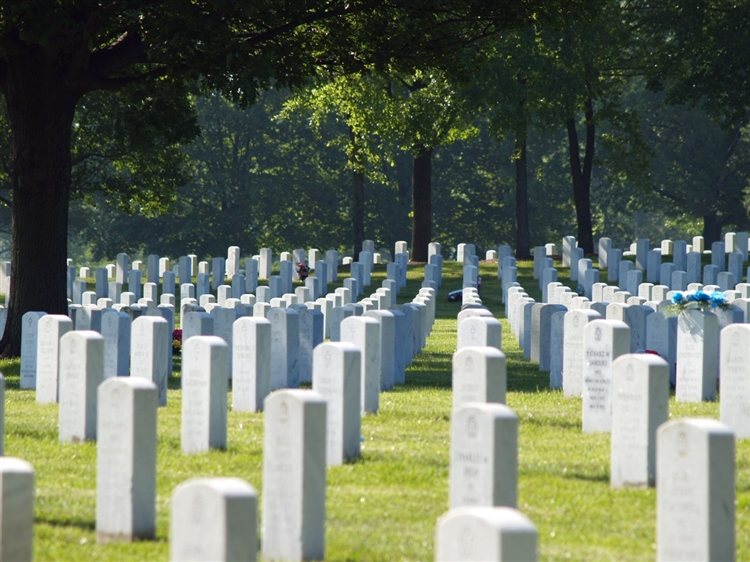 Photo by Christina Rutz, via Flickr

The Jefferson Barracks National Cemetery is an American military cemetery, located on the banks of the Mississippi River. It sits on 296 acres and was added to the National Register of Historic Places in July of 1998. The cemetery was established after the American Civil War in an attempt to put together a formal network of military cemeteries. There are over 188,000 graves at the cemetery, and although most cemeteries are quite creepy to begin with, this one is said to be a bit more eerie than others. A number of ghostly soldiers are said to linger the cemetery and in the buildings of Jefferson Barracks as well.

2. Jesse James Farm - Kearney, MO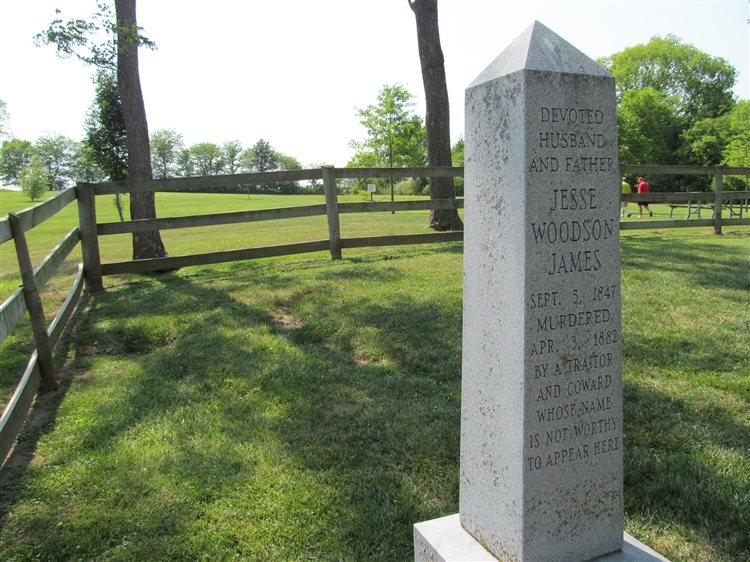 Photo by Eric Langhorst, via Flickr

Now a museum, the Jesse James Farm is where the well-known outlaw grew up and is operated by the Department of Clay County Historic Sites. Jesse was born at the family home in 1847 and according to the museum's official website, the home was owned by the descendents of Jesse James until 1978. The home was in ruins and was restored, and opened up to the public. Jesse James was shot in the head by Bob Ford in 1882 and buried in the side yard, but his remains were later moved to Mount Olivet Cemetery. Haunting reports at the location include strange lights that have been seen in the farmhouse, doors slamming on their own, horse hooves stomping around and whispering conversations.

3. Lemp Mansion - St. Louis, MO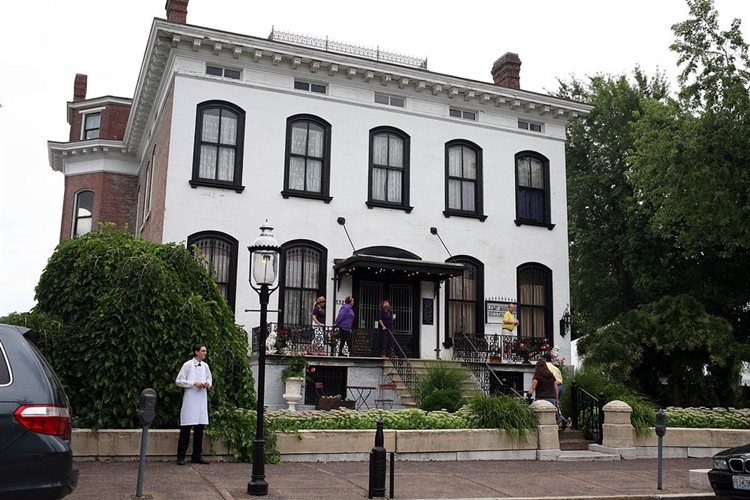 Photo by nyscout, via Flickr

Located on DeMenil Place in St. Louis, The Lemp Mansion is a historical house where four suicides by Lemp family members took place, after the death of the son Frederick Lemp. Fredrick's William J. Lemp Brewing Co. dominated the St. Louis beer market before Prohibition with its Falstaff beer brand and the family home is a well known location in Missouri, especially for its hauntings. The home is said to be haunted by members of the Lemp family and Life Magazine included the location in an article on America's Nine Most Haunted Houses in 1980. One of the ghosts lingering the mansion is known as "the monkey faced boy," believed to be William Lemp's illegitimate son, Zeke, who was born with down syndrome and hidden in the attic. Other stories say Zeke was William's brother and was born deformed or mentally disabled.

4. The Governor's Mansion - Jefferson City, MO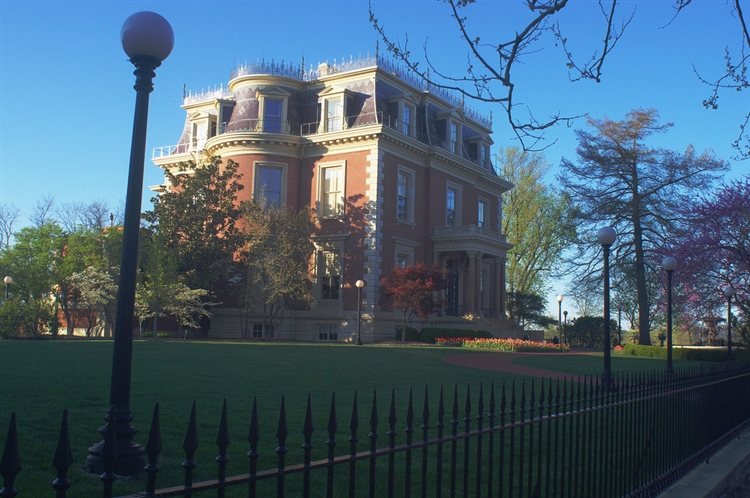 Photo by Sasha Vasko, via Flickr

This historic U.S. residence in Jefferson City dates back to the 1870s and was added to the National Register of Historic Places in May of 1969. It is located in the Missouri State Capitol Historic District and is the third mansion building, its first was located in St. Charles but was relocated to Jefferson City before it burned down in 1837. The ghost that is believed to linger the mansion is that of Carrie Crittenden, the daughter of Thomas Crittenden, who was said to have died in the home at a young age after becoming ill. Her apparition has been seen and heard playing around upstairs.

5. Thespian Hall - Boonville, MO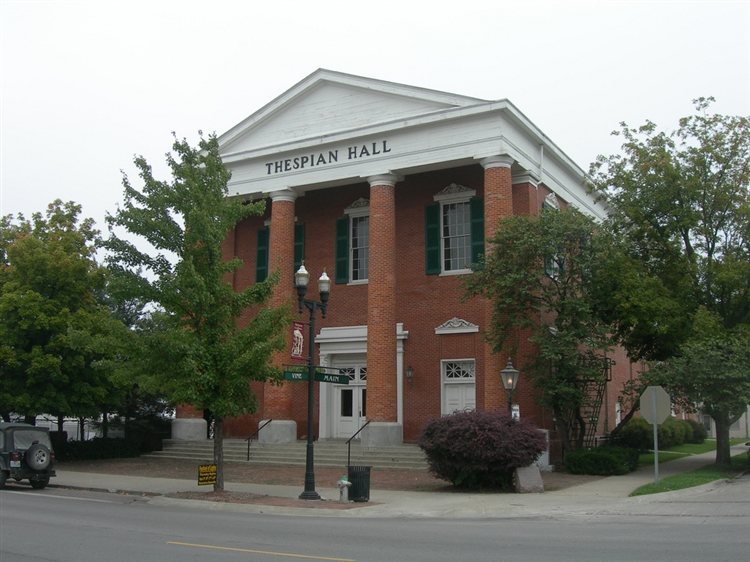 Photo by Jimmy Everson, DVM, via Flickr

Thespian Hall in Boonville dates back to the 1850s and is the oldest theater still in use west of the Alleghenies. Not only has it operated as a theater, but also a dance hall, library, movie theater, stable, skating rink, church and Civil War hospital. "Mrs. X" is the most well known ghost at Thespian Hall, and has been described as having grey hair, a white collared blouse and a dark skirt. She carries a purse and her face is usually blurred. She is believed to be the grandmother to an opera singer who performed here, and has been spotted frequently in the audience during rehearsals. Ragtime music has also been heard playing in the hall, and wig stands have moved on their own, turning to face themselves toward the mirrors when nobody is in the room.

6. Knob Noster, MO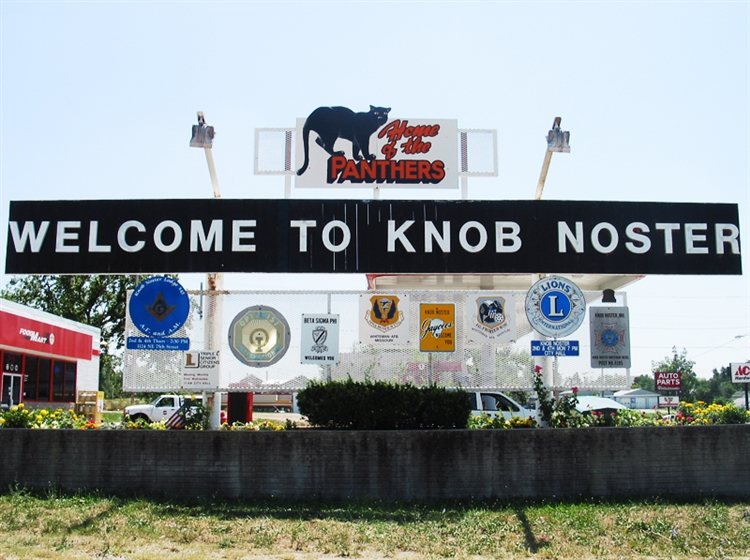 Photo by Your Pal Dave, via Flickr

The small town of Knob Noster had a popular of a little over 2,700 people at the 2010 census and is located adjacent to Whiteman Air Force Base. The legend surrounding Knob Noster is that of The Hermit, who lived up on the hill and avoided the rest of the people in town. He was even said to have had a slave who would run errands for him, who was well-liked by the townspeople. The locals noticed one day that the slave had mysteriously gone missing, especially when the hermit came into town to do his own errands. After being questioned about his slave's whereabouts, he stormed off. Many townspeople believed he murdered his slave, and a couple days later, there was a terrible storm and witnesses say a lantern was moving up the hill just before lightning struck. The next day, the hermit's body was found, his face frozen in terror. People claim to still see the lantern going up and down the hillside on stormy nights.

7. Ravenswood - Bunceton, MO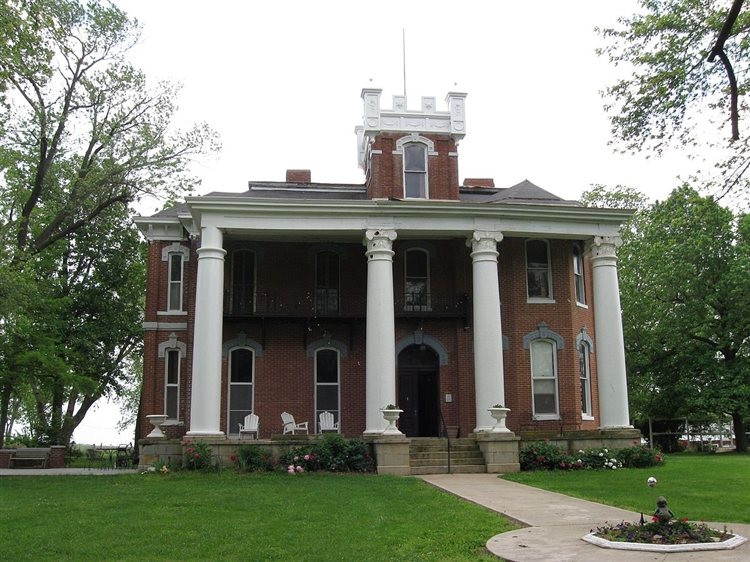 Photo by HornCoumbia, via WikiCommons

Also known as the Leonard Home, the historic Ravenswood was built in 1880 and added to the National Register of Historic Places in 1975. The home was built for Nadine and Charles Leonard, a couple who loved to entertain, and would decorate the trees with string lanterns, hire an orchestra, and invite all their friends to dance at the property. Nadine lived at the home until her death and many say her spirit has never left. Her bedroom door has been found locked from the inside, Christmas ornaments have been thrown down the stairs, a broken music box is known to randomly play music, and some have claimed to hear music and laughter coming from the lawns, possibly remnants of the parties held there.

8. Zombie Road - St. Louis, MO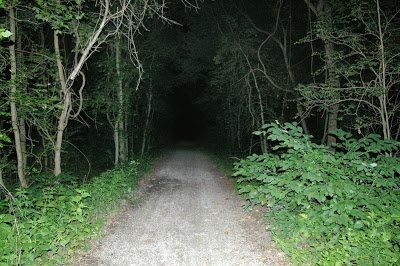 Photo via Fascination With Fear

Officially known as Lawler Ford Road and was nicknamed Zombie Road in the 1950s. The road was originally built to gain access to the Meramec River and the railroad tracks alongside it. It eventually fell into disrepair and was abandoned, barely being used. Over the years, it has gained reputation for being haunted, and one popular story surrounds that of the "Zombie killer" (hence the road's nickname). The zombie killer was a man who lived in a shack in the woods, and would attack young lovers who were looking for a place to be alone.

Another story surrounds the ghost of a person who was hit by a train, possibly Mrs. McCullough, the wife of a local judge. Many believe the stories are just legend though, as there are no reports of anyone getting hit by a train in this area at that time. Haunting reports on the road include disembodied voices, strange noises and ghostly figures, one of them appearing as a white figure, or glowing with a bluish-white light that disappears when approached.

9. Vaile Mansion - Independence, MO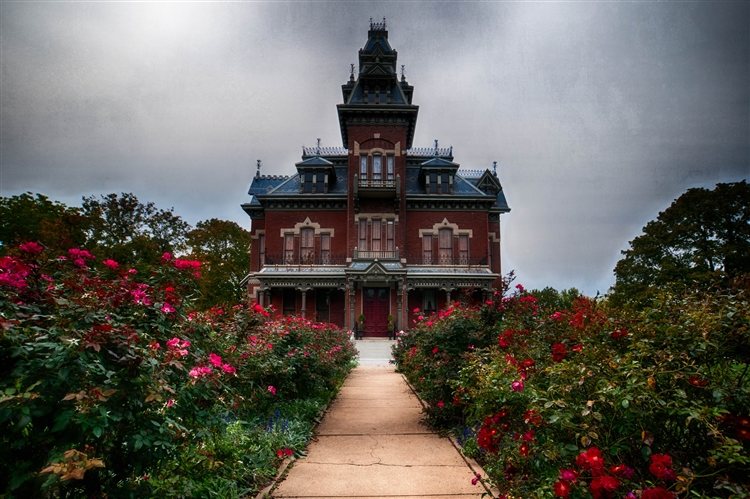 Photo by Photoguyinmo Swatzell, via Flickr

Located on North Liberty Street in Independence, the Vaile Mansion was built in 1881 for businessman Harvey M. Vaile and was added to the National Register of Historic Places in 1969. Now operating as a museum, the 31-room mansion is one of the best examples of Second Empire style architecture in the country and is rumored to be haunted by a former mistress of the home. Some have claimed to see Mrs. Vaile peering out of a window, or wandering around the property.

10. Pythian Castle - Springfield, MO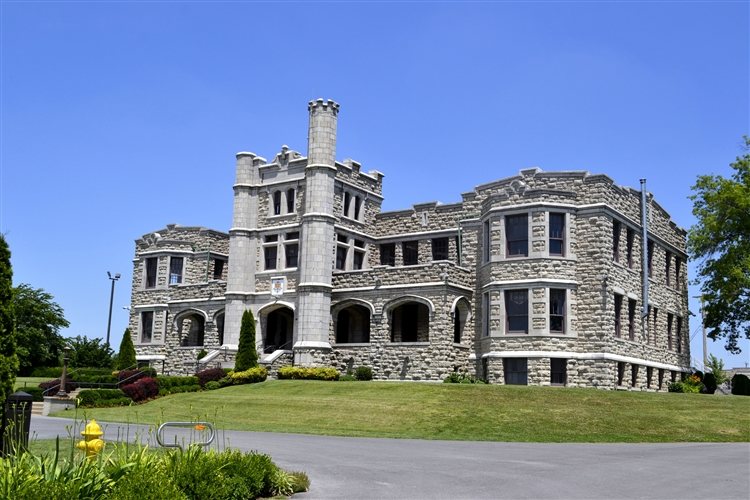 Photo by Jo Naylor, via Flickr

Springfield's Pythian Castle is also known as the Pythian Home of Missouri, and was originally built in 1913 by the Knights of Pythias and later owned by the U.S. Military. The tourist attraction sits on three acres of land and was added to the National Register of Historic Places in October of 2009. Rumors was stated that German and Italian prisoners-of-war were held there during World War II but it was later found out that no prisoners were held in the castle itself, but in the army hospital out back. This information was featured on TV's "Haunted Collectors."

The castle is now privately owned but is available to be rented out for events and parties, and even ghost tours. Haunting reports include everything from temperature changes, orbs, and voices to other strange sounds that have been heard all throughout the building.


Click here to read about more Haunted Places in Missouri!

Disclaimer: Haunts.com does not support or endorse trespassing to visit Real Haunted Places. Before you decide to visit a local real haunt, please make sure to acquire the appropriate permits and/or permissions, and be respectful of properties that are privately owned. A number of Haunt Explorers have been arrested, ticketed and reprimanded by authorities for trespassing, and we don't want that to happen to you! To avoid this, please be sure to contact the property owners before visiting a real haunt, and respect their hours of operation, local rules and regulations. Happy Haunting!