The Spooky Side of The Lone Star State: Ten of The Most Haunted Places in Texas
May 16, 2017 By Chelsea T.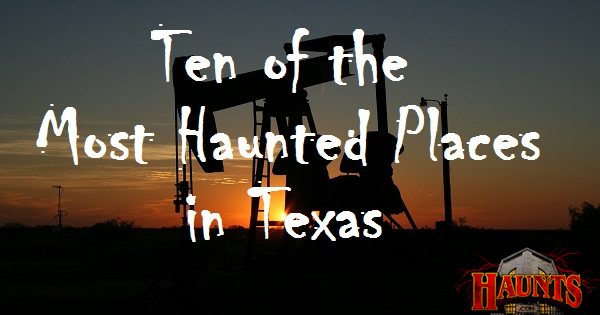 Home > Haunted Places > Texas Haunted Places

The US is filled with a number of haunted places, some located in the biggest of cities that everyone knows about, and others in small towns that only locals may know of. In Texas, there are a ton of spots that have ghost stories attached to them.
From hospitals and asylums, to cemeteries, schools, theaters, restaurants, parks, bridges, and even roads, there's an endless amount of places throughout the state that are said to have some ghostly spirits lingering. Take a peek below to check out our Top 10 Haunted Places in the state of Texas!

1. Baker Hotel - Mineral Wells, TX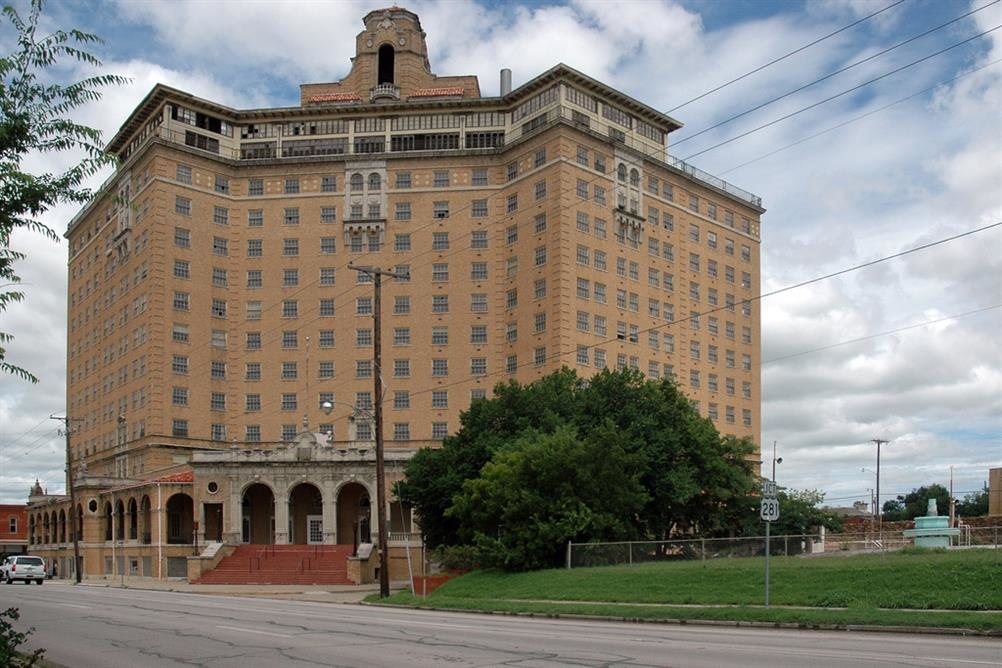 Photo by Anyjazz65, via Flickr

This historic hotel was added to the National Register of Historic Places in 1982 and dates back to the late 1920s. The 14-floor hotel closed its doors in 1972 and was featured on the television show, Ghost Adventures and Celebrity Ghost Stories. It is believed that more than one spirit lingers here, two that are known, including a man who was killed after being trapped in a closing elevator door and the second is that of a woman in white who committed suicide in the hotel. Their spirits have been known to appear as orbs in photographs and witnesses have reported disembodied voices heard throughout the hotel and phantom aromas as well. Fun fact about the hotel: Bonnie and Clyde were said to have stayed here back in the day, along with other well-known visitors, including Judy Garland, Clark Gable and Helen Keller.

2. Granbury Opera House - Granbury, TX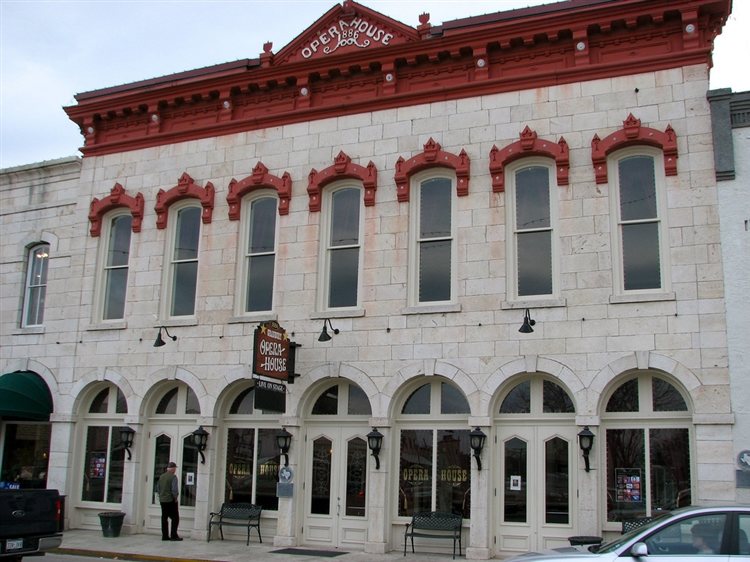 Photo by QuesterMark, via Flickr

This historic performing arts center features live musicals and comedies and offers theater education programs as well. Located on E. Pearl Street in Granbury, this Opera House is not only known for its performances. Many say the building is also popular for its famous ghost - John Wilkes Booth. Booth assassinated President Abraham Lincoln at the Ford Theatre in Washington, D.C. and his ghost has been spotted by a number of guests of the opera house. Whether the spirit is Booth or not, the tall, black figure is known to wander around wearing black boots and enjoys Shakespeare.

3. Hotel Galvez - Galveston, TX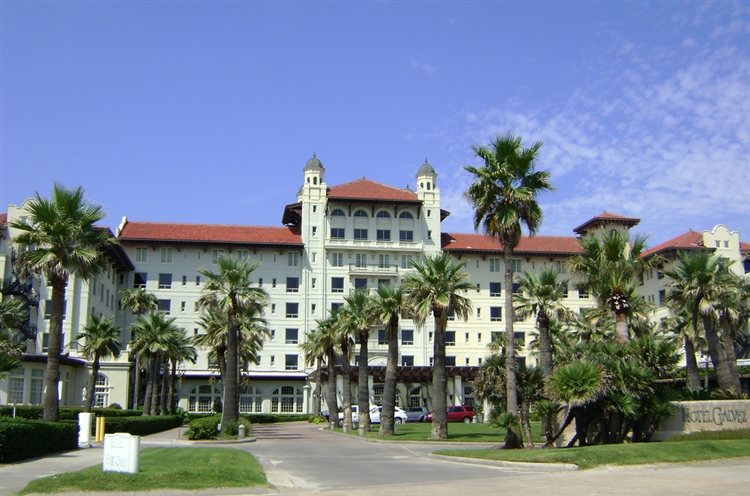 Photo by Patrick Feller, via Flickr

This massive hotel is located right on the beach and has seen the likes of Frank Sinatra, Howard Hughes, General Douglas MacArthur, Jimmy Stewart, and a number of United States Presidents including Lyndon B. Johnson, Dwight D. Eisenhower and Franklin D. Roosevelt. Dating back to 1911, the hotel was built on land where the Beach Hotel, Electric Pavilion, and Pagoda Bathhouse once stood. There are a number of ghosts that are said to haunt different spots in the hotel.
According to Galveston Ghost, one of the spirits here is "The Love Lorn Lady," who is mostly seen and heard on the fifth floor of the hotel. Rumor says her name was Audra, and she was a bride-to-be who stayed at the hotel while her fiance was out to sea. After a storm, Audra heard that her fiance's ship had sunk, killing those on board. She hung herself in Room #501 after finding out. Her groom ended up coming back to the hotel a few days later to meet with his bride, but it had been too late. Another spirit that is said to haunt Hotel Galvez is "Sister Katherine," a ghostly nun.

4. Spaghetti Warehouse - Houston, TX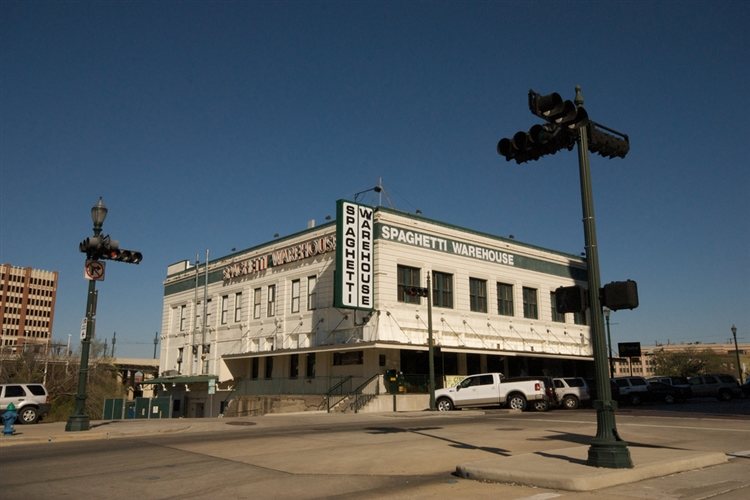 Photo by Becky Lai, via Flickr

This warehouse dates back to around the 20th Century and was originally named Desel-Boettcher. It had operated as a produce warehouse and pharmaceuticals warehouse in its early days, and was bought by the Spaghetti Warehouse in 1974. Its haunting stories involve a young pharmacist who was extremely dedicated to his job. While leaving work one night, with a stack of papers in hand, he was said to have stepped onto the elevator, not realizing he had stepped into the open elevator shaft. He fell to his death and may linger in his old workplace in spirit to this very day.
Another ghost at the warehouse is believed to be the wife of the pharmacist, who has been so heartbroken over her husband's death that she too died a year later. Her ghost is known to rearrange furniture, tap guests on their shoulders and pull their hair. Other eerie occurrences here include floating objects and cool, clammy breezes that cannot be explained.

5. La Carafe - Houston, TX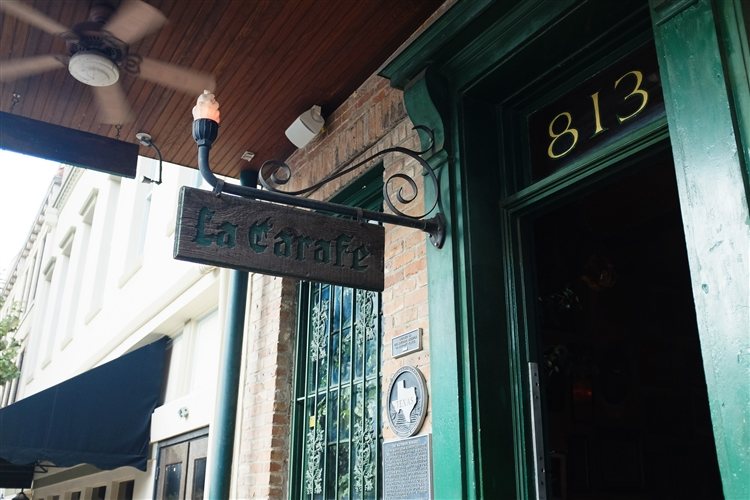 Photo by Sean Davis, via Flickr

This cafe is housed in the oldest commercial building in all of Houston, no wonder why it's believed to be haunted! The most active spot in the building is said to be the second floor, which is unoccupied due to safety issues. This is where people have reported disembodied footsteps, items that have been moved, and the full-body apparition of a large, dark male. A young child playing with a ball has also been heard on the empty floor. The building was listed as a Texas Historic Landmark in 1979, about 120 years after it first opened its doors as The Kennedy Bakery in 1860. The spot became La Carafe in the 1960s and is a well-known haunted spot in the city.

6. The Jefferson Hotel - Jefferson, TX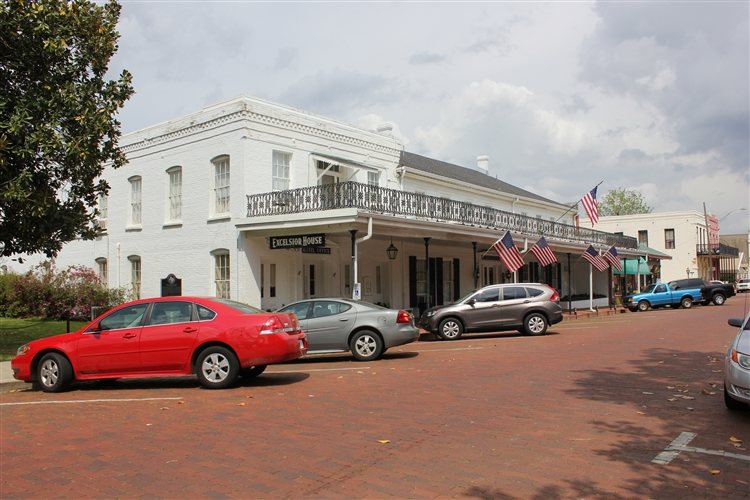 Photo by Nicolas Henderson, via Flickr

This historic hotel is located on W. Austin Street and dates back to 1851. Room #19 is said to have the most paranormal activity, and is where witnesses have reported hearing voices when the room was vacant and those that stay the night in the haunted room feel like they're being watched by an unseen presence. According to Ghost In My Suitcase, the staircase leading up the second floor is quite creepy and is where the owners have heard disembodied footsteps while the hotel was empty. Visitors have also reported being tapped on their shoulder or tugged on their hair while stopping on the staircase. Maybe the ghost doesn't want them going upstairs? Who knows! Either way though, the old stairway creaks when you use it. The upstairs hallway is another spot in the hotel that is said to have some eerie activity, including orbs in photos, closet doors that open and close on their own and knocking on the headboards in some of the rooms located here.


7. Littlefield House - Austin, TX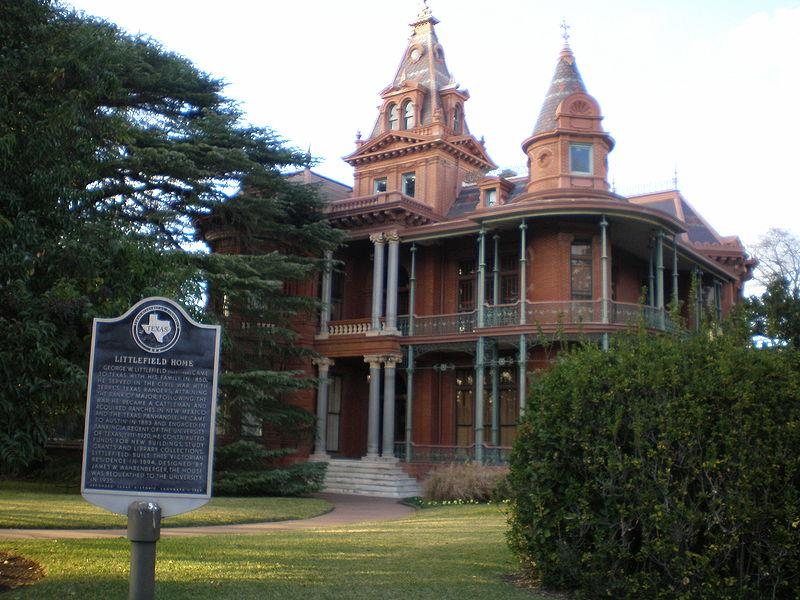 Photo by Alvaro Montoro, via WikiCommons

The historic Littlefield House dates back to 1893 and was added to the National Register of Historic Places in 1970. Located on the campus of the University of Texas at Austin, the building is quite beautiful to look at and features a Victorian style. It was constructed as a private residence for George Littlefield, a Civil War veteran and successful businessman in the bank and cattle trades. Major Littlefield and his wife Alice made a number of contributions to the university, including funds for the Littlefield Fountain, the Main Building, and the Littlefield Dormitory. They also developed the Littlefield Building downtown, finished in 1912.

There are a number of ghost stories surround the location, reported by both employees and visitors. Some believe the spirit here is that of Alice Littlefield, the wife to the Major, who has been heard playing the piano at night. Others have spotted an apparition on the second floor of the home, also said to be Alice. It seems that Littlefield's wife never wanted to leave her home, or maybe she enjoys keeping an eye on the place!

8. The White Sanitarium - Wichita Falls, TX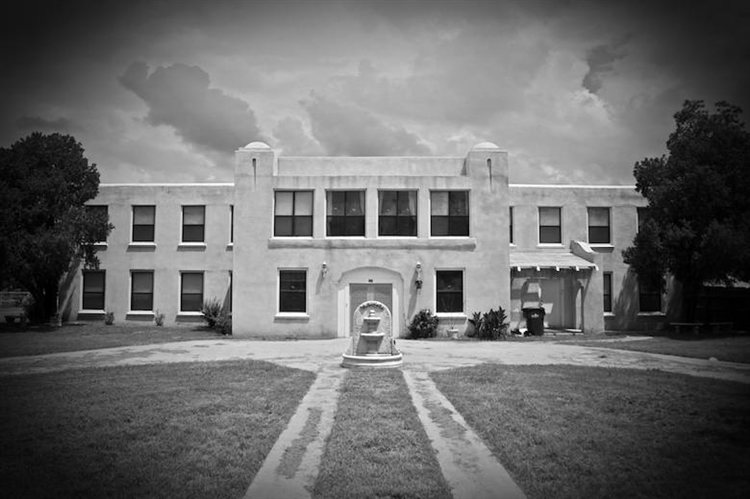 Photo via Haunted Rooms
Also known as the Old Insane Asylum, this former sanatorium once housed tuberculosis patients in the early 20th Century. It opened its doors in 1926 under the direction of Frank S. White and is now a private residence. Like many other psychiatric hospitals during this time, it was said a number of experiments took place here on patients, and ended up taking the lives of many of them. The facility was shut down and those who had visited the property, reported hearing children screaming, lights that went on and off, and even some ghostly men sitting down, playing cards! One thing is for sure, the current owner of the place is quite brave!

9. Driskill Hotel - Austin, TX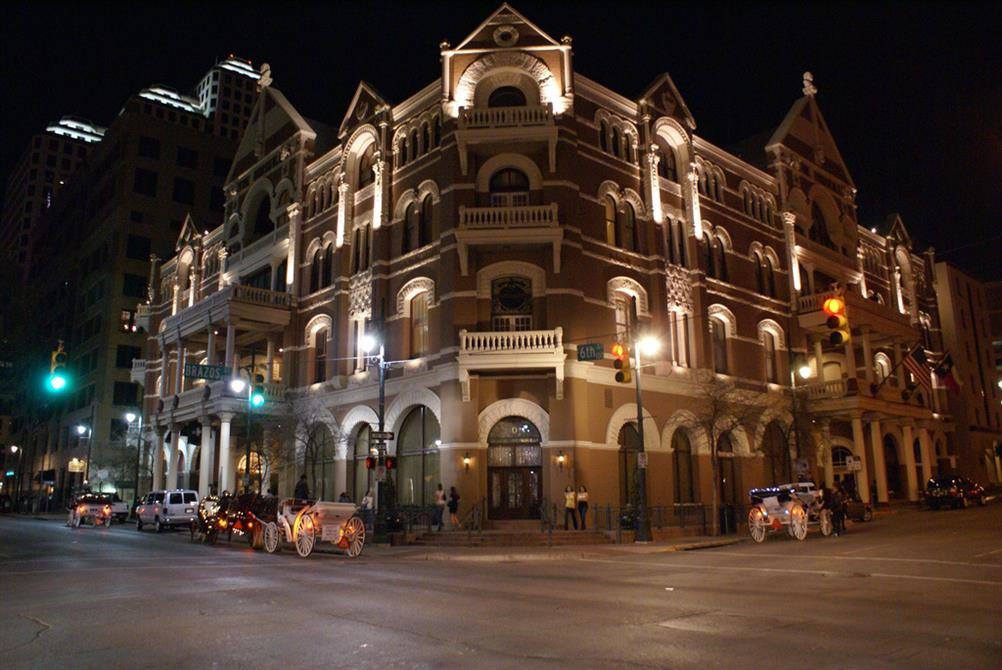 Photo by Karen Blaha, via Flickr

Dating back to 1886, The Driskill Hotel is located in the heart of Downtown Austin and has been a landmark of the city for quite some time now. The hotel is considered to be extremely active when it comes to paranormal activity, and has had a number of haunting reports. They include apparitions that have been spotted both standing and sitting in chairs, witnesses feeling something unseen touch their arms or face, mysterious sounds from the upstairs floors when it is empty, and when you look at the portrait of a young girl on the third floor, it is said to give people a tingling sensation on their heels, as if they're being lifted into the air.

According to Haunted Places to Go, there is a room of the hotel rumored to be a bit more haunted than others - room #525. The story surrounding this room involves the "suicide brides," two young women who were on their honeymoon in the hotel 20 years apart from one another, and committed suicide in the room's bathroom. Witnesses have claimed to see apparitions in this room, along with other strange visions, and unexplained leaks.

10. Miss Molly's Motel - Fort Worth, TX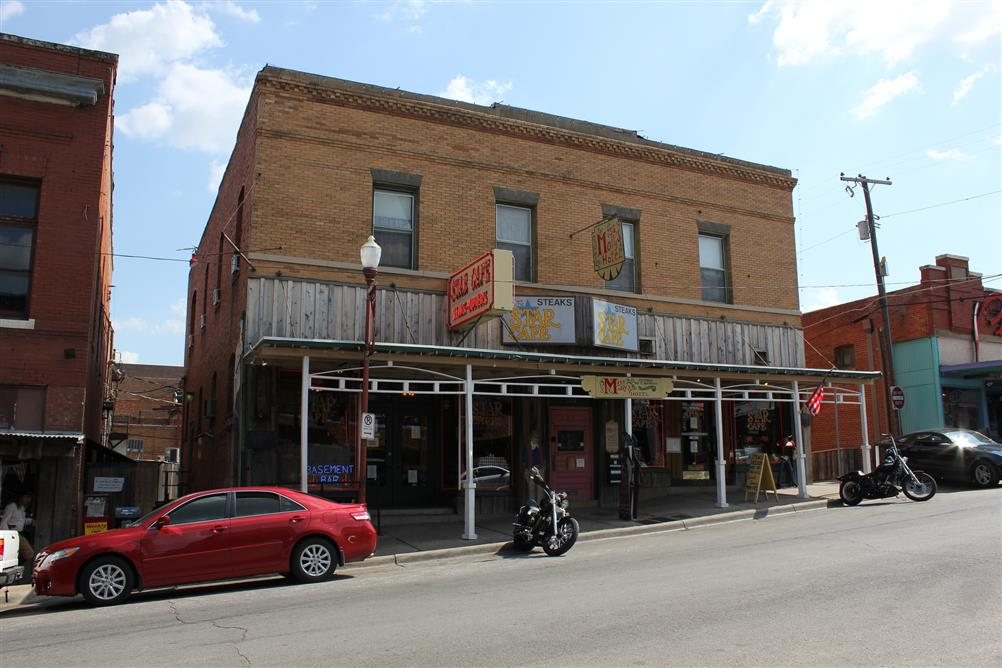 Photo by Nicolas Henderson, via Flickr

This historic hotel is located in the middle of the Fort Worth Stockyards and according to its official website, it is the oldest bed and breakfast in all of Forth Worth. When the building first opened its doors, it operated as a boarding house and later a bordello. It features seven themed rooms for visitors to enjoy, and some say, ghostly residents, too!

Haunting reports at the old hotel include full-body apparitions, strange unexplained scents, toilets that flush by themselves, lights that turn on and off on their own, cold spots, items that disappear and reappear, unlocked doors that refuse to open, and various unexplained sounds. Paranormal Investigators have explored the hotel and it's even listed with Texas Christian University's paranormal activity class, which makes regular visits to record hauntings.
Click here to read about more Haunted Places in Texas!

Disclaimer: Haunts.com does not support or endorse trespassing to visit Real Haunted Places. Before you decide to visit a local real haunt, please make sure to acquire the appropriate permits and/or permissions, and be respectful of properties that are privately owned. A number of Haunt Explorers have been arrested, ticketed and reprimanded by authorities for trespassing, and we don't want that to happen to you! To avoid this, please be sure to contact the property owners before visiting a real haunt, and respect their hours of operation, local rules and regulations. Happy Haunting!