Camp Blood
This attraction is closed for the 2020 season due to COVID-19!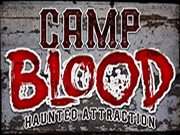 Camp Blood
1533 Mason Grove Road
Humboldt, TN
Click To Call
731-487-1661
Review Us

closed in 2021 due to COVID - Will be back in 2022

Before 1960 Camp Cedar Lake was a popular destination for family vacations, featuring 7 quaint cabins on Mason Grove Road.

In October of that year, a sinister group wearing Halloween costumes slaughtered all within the 6 occupied cabins. The souls of 22 children, women and men died that night. The local residents feared that if news of this event spread, no one would ever want to move to the area again. Thus things were kept quiet, the cabins abandoned and it came to be known as Camp Blood.

Since that time the woods have grown thick and the cabins have aged, but we have recently decided to restore them. During our renovations strange things have been happening, but we are determined to not let anything stop us. Are the warnings scrawled in blood on the cabin walls simple kid pranks? Or have we released a pure evil from the disturbance of this site? We plan to host a haunt at this location in 2019 despite the warnings and threats we have received. Do you think you can make It through?

This attraction is closed for the 2020 season due to COVID-19!
Latest Reviews
It was awesome

Posted Oct 2019