Freakling Bros. Trilogy of Terror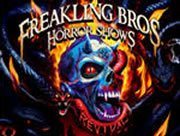 Freakling Bros. Trilogy of Terror
4245 S. Grand Canyon Drive
Las Vegas, NV
Click To Call
702-362-3327
Review Us

Established in 1976, Freakling Bros., has been and continues to remain a leader in the haunted attraction industry, with a reputation as "one of the best in the business" for over 30 years by concentrating on primal fears, relying on the power of live performers, and employing the art of theatrical illusion.

We are home of the FIRST and ONLY R-Rated Haunted attraction in the state of Nevada, The GATES of HELL: an experiment in serious, uncompromising, interactive horror. Ranked #1 in the Western U.S. by Scarezone.com, Freakling Bros. proves to be a trend setter in the haunt industry.

Freakling Bros. presents The COVEN of 13 – an ALL NEW HORROR SHOW that pushes the boundaries of complete and total immersion while offering a unique, company-trademark take on one of Halloween's oldest and most classic themes: Witches, Warlocks, and Black Magic.
Freakling Bros Haunted Houses in Las Vegas
Latest Reviews
There are no reviews for this listing yet!