Freakling Bros. Horror Shows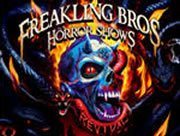 Freakling Bros. Horror Shows
6555 S Riley St
Las Vegas, NV
Click To Call
702-362-3327
Review Us


Established in 1992, Freakling Bros., has been and continues to remain a leader in the haunted attraction industry, with a reputation as "The best in the business" for over 30 years by concentrating on primal fears, relying on the power of live performers, and employing the art of theatrical illusion. Ranked #1 scariest haunt in the country by USA Today and Best of Vegas by Las Vegas Weekly, Freakling Bros. is the real deal. 3 haunted houses, one fortune teller, one price, unlimited trips through the attractions all night long!

COVEN OF 13
Freakling Bros. presents THE COven of 13
In the thick darkness of the witching hour, as night becomes early morning, When most of us are fast sleep, a pack of cloaked, ageless figures gathers and chants. If you listen closely in the night, you will hear them. They speak slowly, softly, deliberately, and with insidious intention.
Their physical bodies are diseased, decrepit, and rotten, but when the Old Hag summons the dark spirit, and the High Priest channels the ferocity of its essence, they are empowered, and they are fierce. These are the dark witches of 13, born of sepsis and poison: You have been invited to make their coven complete. They call to you and welcome you in, to be vetted, initiated, and even reborn as one of them. Do you dare try to make the cut?
Freakling Bros. presents The COVEN of 13 – a Horror Show that pushes the boundaries of complete and total immersion while offering a unique, company-trademark take on one of Halloween's oldest and most classic themes: Witches, Warlocks, and Black Magic.

GATES OF HELL:
An Experiment In SERIOUS, UnCOmPrOmIsInG, InTERaCTIvE HOrrOR
Must be 17 unless with a parent or Guardian. Nobody under 12 permitted. Must sign a waiver before entering gates of hell
First, you'll die… many times. Then… it gets WORSE.
In 2011, we unveiled the first ever R-Rated Haunted attraction in the state of Nevada. It was an unprecedented gamble based on one simple theory: that our adult audience was ready for something more. Thanks to our amazing and loyal patrons, what we had initially built for a niche' audience surprised us by becoming a mainstream success. The Gates of Hell is now a nationwide haunt industry phenomenon. Over the years we've changed rooms to keep our patrons guessing, but the fear factor has remained the same. If you've never been, now's your chance. If you've been before, now is your chance to relive it, and see if your friends can make it through with you. After all, misery loves company.
Still the ONE and ONLY R-Rated Haunted House in the state of Nevada, don't miss what everyone is talking about: A look at "the darker side of Freakling Bros". The Gates of Hell is a sadistic experiment in absolute sensory overload. You won't be a spectator. Prepare for heart pounding, claustrophobic terror; face the reality of your own violent death… and finally, experience a slow and painful descent into cold, black nothingness to meet Lucifer himself.
Do you have what it takes? We don't think so.

CASTLE VAMPYRE
More than any of our creations, Castle Vampyre represents all things classic Freakling. The tradition began decades ago when Duke Mollner (aka Dukula) first donned the Dracula cape, and it reached a zenith in 2004, when Nosferatu asked if we would partner with him to construct his October residence in Las Vegas, NV.
The Castle has always been a fan favorite. It's terror level is still high, as with all of our shows, but it's FUN, illusory terror, rather than "I'm traumatized for life" terror. This enjoyability has helped make it our most repeated attraction, and most popular with all ages....
A master stroke of horror and illusion, deep within the walls of this fortress beats the heart of pure, unadulterated EVIL. Blood flows freely and is guzzled nightly within the Castle walls.
You can feel it.... You can hear it... But is it really happening? Is there any way out? They say seeing is believing. You decide.
The acclaimed Castle Vampyre returns for an ENCORE SEASON of performances after nearly shuttering in 2019. Come take a tour in 2021. It might be your last chance!
Some locations may have last minute updates due to changing circumstances. Please visit the
attraction's website
and/or social media before going to double-check that they are open.
October 2023
Su
M
Tu
W
Th
F
Sa
1
2
3
4
5
6
7
8
9
10
11
12
13
14
15
16
17
18
19
20
21
22
23
24
25
26
27
28
29
30
31
Freakling Bros Haunted Houses in Las Vegas
Latest Reviews
There are no reviews for this listing yet!