Grim Trails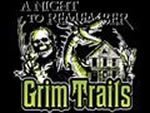 Grim Trails
12009 Rehl Road
Jeffersontown, KY
Click To Call
502-594-7624
Review Us

Grim Trails Haunted Attraction takes you deep into the land of dark fairy tales! Journey through 3/4 of a mile of frightening themed indoor and outdoor areas where anything can happen. From going down the rabbit hole in Wonderland, to coming face to face with Maleficent as a fire-breathing dragon, to crossing a rickety bridge leading to Kaa's snake temple, this haunt is not for the faint of heart (nor is it recommended for anyone who is pregnant, has a pre-existing heart condition, the very young, or a weak bladder)!
Grim Trails 2015 EXCLUSIVE Preview
Latest Reviews
There are no reviews for this listing yet!