Hayride of Horror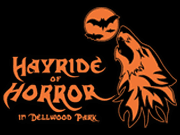 Hayride of Horror
199 E. Woods Dr
Lockport, IL
Click To Call
815-838-1183
Review Us






Hayride of Horror:
Dellwood has always been a family destination for recreation and entertainment. We invite you to ride our Hayride of Horror through the heart of this great park while the spirits of the long forgotten welcome you home. Dark and mysterious forces will play with your imagination as our creatures inspire fear.

Eerie movies will air on our 20 foot outdoor movie screen while you await your Hayride of Horror, and our bonfire will warm you while keeping the evil from incinerating your soul. Line entertainment will keep you both terrified and delighted.

Curse of the Bayou:
Are you one of the brave souls to seek out the underground of Dellwood Park? We dare you to attempt the Curse of the Bayou. This brand new haunted attraction has been hidden in the Canyons below the Hayride of Horror. The veil between the living and the dead has been lifted, and a powerful Voodoo Priestess has been called forth from her home in the swamps. She commands a legion of fiendish monsters to assist her so that she may stay in this realm, wreaking havoc. Do you carry the still beating heart she yearns for? You must navigate the treacherous maze to escape, or risk being her next victim.

The Curse of the Bayou is not recommended for young children, parental guidance suggested. This is a walking attraction with an uneven trail, tight corners, and low ceilings. Strobe lighting, fog and loud noises will be utilized.

October 2019
Su
M
Tu
W
Th
F
Sa
1
2
3
4
5
6
7
8
9
10
11
12
13
14
15
16
17
18
19
20
21
22
23
24
25
26
27
28
29
30
31
Latest Reviews
LOVED IT

Posted Aug 2019

The actors were great. The props were great. But I will not go to this hayride again because of the 2 hour line you had to stand in. We had a party of 13, 3 people left because they couldn't wait that long. It would have been better if there was a holding area where you could sit by a bonfire and visit with your group until it was time for your ride. If I had known in advance about the 2 hour wait standing in line, I would have never gone.

Posted Oct 2018