Frighthouse Station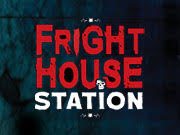 Frighthouse Station
2501 East G St
Tacoma, WA
Click To Call
253-223-3256
Review Us

A new haunted house is emerging from the ashes. The name... the Pierce County Asylum! Pyschology has never been so much fun! We are a year round haunted house. We have had murder mysteries, and small haunts throughout the year. We have had Easter egg hunts for children and adults. We are open to Weddings, parties of any sort, sleepovers. If you have event coming, think about if you want it to be a haunted house??

Frighthouse Station is Tacoma's longest-running haunted attraction, evolved into an all-new, immersive supernatural experience. You are cordially invited to step into two haunted houses - SHADOWS and The REDEMPTION - filled with nightmarish creatures, the shambling dead, the unnatural and unrelenting.
Latest Reviews
There are no reviews for this listing yet!