Scary Harry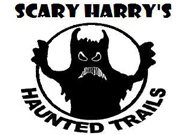 Scary Harrys Haunted Trails includes 3 separate buildings as well as a walking trail. Haunted Trail walk through the woods at night. You will weave your way thru the woods trying your best to avoid Scary Harry's bandits. You MAY eventually find your way back to civilization.

All Patrons need to be at least 48 inches in height!!

Come visit and become a part of the Scary Harry family! Please, no flashlights!

BenArrowVlogs: Episode 1 - Scary Harry's
Latest Reviews
There are no reviews for this listing yet!