The Nevermore Haunt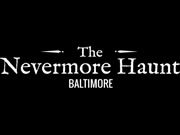 The Nevermore Haunt
450 Mott St
Baltimore, MD
Click To Call
410.696.3313
Review Us

Get Ready Baltimore! This October, The Nevermore Haunt unleashes Baltimore's SCARIEST Haunted House Event. Learn what USA's GREATEST HAUNTS calls One of the Top Haunted Houses in the Country. It's time to SCREAM!

THE NEVERMORE HAUNT
Bizarre creatures, terrifying visions of the past and heart pounding horrors torment visitors brave enough to enter one of Baltimore's oldest warehouses. Historically themed and scary as hell, The Nevermore Haunt is unlike any haunted house you've ever seen!

ISAAC'S MALEFICENT SIDESHOW
Witness the mischievous sideshow troupe as you wait in line, or after walking through the haunted house attraction. Enjoy food and drink while surrounded by sinister magicians and freak-show performances. Join in the fun but be careful…they are always looking for permanent additions!
The Nevermore Haunt - 2018 Event Trailer
Latest Reviews
There are no reviews for this listing yet!