2016 Top Haunted Houses & Attractions for Connecticut - Haunts.com
March 15, 2017 By Haunts.com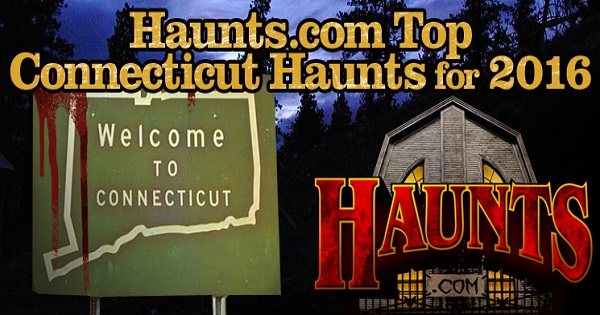 2016 Connecticut Must See Attractions > 2016 Must See Attractions in the US
With dozen of haunts calling Connecticut home, it wasn't easy to pick such a short list of Haunted Attractions for the Must See Connecticut Haunts that gave locals heart-pounding fun during the 2016 Halloween Season. Tons of terror was delivered all season long to thrill seekers, whether they resided in Danbury, were looking for frightening fun in Hamden, or thrills and chills in Hartford, the seasonal fun was endless!

With so many scary-good attractions throughout The Constitution State, it's hard to visit them all in just one Halloween Season. To make things a bit easier for when locals go searching for a Haunted Attraction to check out this year, Haunts.com has put together a list of Must See Haunted Attractions throughout Connecticut that received outstanding customer reviews and ratings in the 2016 Halloween Season. Take a look at the list below so you don't miss out on the biggest and baddest scares of the 2017 Halloween Season!
Top Pick for the 2016 Halloween Season: Haunted Isle - East Haven, CT





Located at The Shore Line Trolley Museum on River Street, Haunted Isle gives thrill seekers a unique Halloween Season experience. Legend says that the deep, dark woods behind the museum is where creatures of all kinds lurk. Haunt-goers will hop on a lonely trolley that brings them down the tracks and to the gate. Do you have what it takes to enter? Or will you change your mind at the last minute?
All while enjoying the frightening fun in store at Haunted Isle, visitors can enjoy the historic location that is filled with a collection of street railway vehicles at the oldest continuously running suburban trolley line in the country. The attraction is not recommended for children 10 and under, and offers food trucks and a concession stand in case you work up an appetite after all the scares!

Type: Spook Walks | Read More | Visit Website | Share Review

---
While these haunts may not have snagged the #1 Spot for the 2016 Halloween Season, the race was tight, and all of our Top Haunts for 2016 are worth visiting this season if you can!
---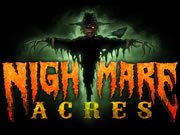 Nightmare Acres - South Windsor, CT
The name suits this attraction well, as it is where your worst nightmares become a horrifying reality. Located at Nomads Outdoor Adventures on Governors Highway in South Windsor, Nightmare Acres satisfies the appetite for fright so many thrill seekers have throughout the entire year. Along with the frightening fun, visitors can enjoy all that Nomads has to offer, including a daytime rope course, a corn maze, bowling alley, indoor arcade and more!

Type: Haunted Houses, Family Friendly | Read More | Visit Website | Share Review
---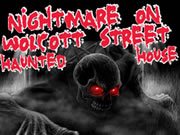 Nightmare on Wolcott Street - Waterbury, CT
Waterbury's Nightmare on Wolcott Street is an indoor Haunted Attraction that features over 55 terrifyingly-themed rooms. A Top Rated Attraction on CTHauntedHouses.com in 2013 and 2015, this attraction features all that is needed to completely horrify its visitors - including screaming chainsaws, animatronics, eerie sounds, live characters and more!

Type: Haunted Houses, Zombie Hunts| Read More | Visit Website | Share Review

---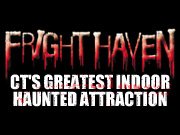 Fright Haven - Stratford, CT
Featuring 20,000 square feet of absolute terror, Fright Haven in Stratford is an indoor attraction that has been a Top 10 Rated Attraction in 2013 and 2014 on CTHauntedHouses.com, and the #1 Winner in 2015. The Haunted Attractions offered at Fright Haven include Dead End Manor, a Victorian-style mansion infested with cannibalistic vampires who are thirsty for blood, The Frightmare Fear Institute: Achluophobia, a pitch black haunt that takes being afraid of the dark to a whole new level, and Carnival of Evil, a 3D tribute of terror to Savin Rock Park, Palisades Park, Freedomland, Paragon Park, what's left of Coney Island, and all the amusement parks torn down over the years!
Type: Mazes, Haunted Houses, Spook Walks | Read More | Visit Website | Share Review
---
Looking for More Scary Good Fun in Connecticut?
Check Out Haunts.com's Connecticut Haunted House & Attraction Guide Here!