2016 Top Haunted Houses & Attractions for Kansas - Haunts.com
February 10, 2017 By Haunts.com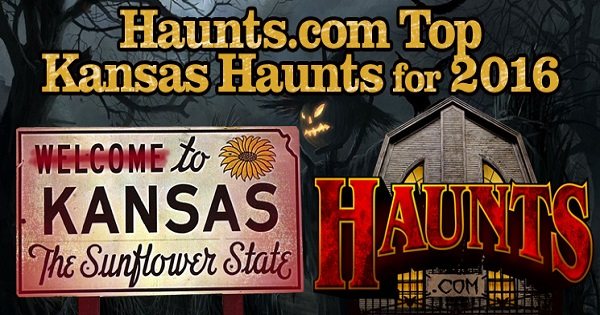 2016 Kansas Must See Attractions > 2016 Must See Attractions in the US
With dozen of haunts calling Kansas home, it wasn't easy to pick such a short list of Haunted Attractions for the Must See Kansas Haunts that gave locals heart-pounding fun during the 2016 Halloween Season. Tons of terror was delivered all season long to thrill seekers, whether they resided in Wichita, were looking for frightening fun in Kansas City, or thrills and chills in Topeka, the seasonal fun was endless!

With so many scary-good attractions throughout The Sunflower State, it's hard to visit them all in just one Halloween Season. To make things a bit easier for when locals go searching for a Haunted Attraction to check out this year, Haunts.com has put together a list of Must See Haunted Attractions throughout Kansas that received outstanding customer reviews and ratings in the 2016 Halloween Season. Take a look at the list below so you don't miss out on the biggest and baddest scares of the 2017 Halloween Season!
Top Pick for the 2016 Halloween Season: Zombie Toxin Haunted House - Junction City, KS





Located on N. Franklin Street in Junction City, Zombie Toxin Haunted House offers over 9,000 square feet of brain destroying zombie horror! Dr. Von Monschture was a brilliant and driven man and in the 1930s, certain areas of Germany's scientific community was pushing their research into questionable and unethical areas. But no one pushed as hard as Dr. Von Monschture. After years of experiments, the neighbors of the Von Monschture family heard a tremendous explosion and saw a huge green fire burning at their home, and a sickly looking green fog billowing down the hillside from it. Will you be brave enough to take on Zombie Toxin and the Dr. himself?

Type: Haunted Houses, Zombie Hunts | Read More | Visit Website | Share Review

---
While these haunts may not have snagged the #1 Spot for the 2016 Halloween Season, the race was tight, and all of our Top Haunts for 2016 are worth visiting this season if you can!
---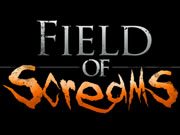 Field of Screams - Maize, KS
Field of Screams in Maize provides local thrill seekers with 25-30 minutes straight of intense terror like nothing they've ever experienced. As you venture through the fields, you'll walk the grounds of the Spurlock family and see first-hand where the infamous "vigilante murders" took place, before wandering even more fields, dark forests, twisting trenches and tunnels, and the terrifying Spurlock workshop. And if you survive Jebediah's Field, you'll enter Clown Town 3D, filled with evil clowns and dizzying 3D effects!

Type: Haunted Houses, Hayrides, Mazes, Escape Games | Read More | Visit Website | Share Review
---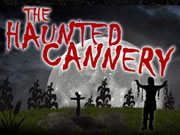 The Haunted Cannery - El Dorado, KS
El Dorado's Haunted Cannery is located at Walter's Pumpkin Patch and offers a ton of frightening fun for thrill seekers to enjoy during the Halloween Season. Haunt-goers will take on The Haunted Hayride, The Haunted Cannery and the Lunatic Asylum - all at one great location! Will you be able to make it through them all?

Type: Haunted House, Hayrides, Mazes, Pumpkin Patches | Read More | Visit Website | Share Review

---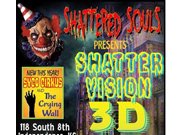 Shattered Souls Haunted House - Independence, KS
In 2016, Shattered Souls Haunted House in Independence offered Shatter Vision 3D along with their haunt. Two great attractions for the price of one, locals were immersed inside the minds of those with the shattered souls! Are you brave enough to come face to face with these creatures?

Type: Haunted Houses | Read More | Visit Facebook Page | Share Review
---
Looking for More Scary Good Fun in Kansas?
Check Out Haunts.com's Kansas Haunted House & Attraction Guide Here!