2016 Top Haunted Houses & Attractions for Long Island - Haunts.com
May 3, 2017 By Haunts.com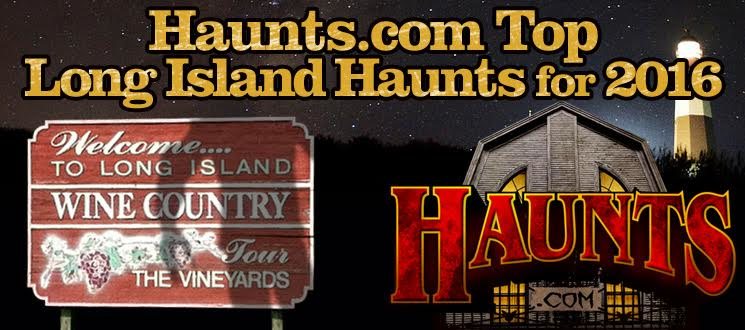 2016 Long Island Must See Attractions > 2016 Must See Attractions in the US
With a number of haunts calling Long Island home, it wasn't easy to pick such a short list of Haunted Attractions for the Must See Long Island Haunts that gave locals heart-pounding fun during the 2016 Halloween Season. All season long, tons of terror was delivered to thrill seekers, whether they resided in Suffolk County, experienced frightening fun in Nassau, or braved the thrills and chills on the Island's East End, the seasonal fun was truly endless!

With so many scary-good attractions across the Island, it's hard to visit them all in just one Halloween Season. To make things a bit easier for when locals go searching for a Haunted Attraction to check out this year, Haunts.com has put together a list of Must See Haunted Attractions throughout Long Island that received outstanding customer reviews and ratings in the 2016 Halloween Season. Take a look at the list below so you don't miss out on the biggest and baddest scares of the 2017 Halloween Season!
Top Pick for the 2016 Halloween Season: HorseAbility Haunted Hay Barn - Old Westbury, NY





Presented by HorseAbility, a 501 c3 not-for-profit organization that provides equine facilitated programs to children and adults with special needs, the Haunted Hay Barn takes place inside historic 1912 horse stables. A Top 10 Attraction Nominee in 2014 and 2015 on LIHauntedHouses.com, HorseAbility creates a unique Halloween Season experience and takes visitors on a journey through over a dozen terrifyingly-themed rooms designed to bring their worst nightmares to reality.

HorseAbility Haunted Hay Barn also offers a "Chicken Walk" for the little ones to journey through, with the lights on, and less scares. All proceeds from the haunt directly benefit HorseAbility - delivering tons of scares for a wonderful cause!

Type: Haunted Houses, Family Friendly| Read More | Visit Website | Share Review

---
While these haunts may not have snagged the #1 Spot for the 2016 Halloween Season, the race was tight, and all of our Top Haunts for 2016 are worth visiting this season if you can!
---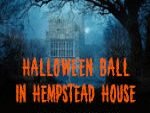 Haunted Castle - Sands Point, NY
The ghosts of the former Guggenheim Estate come out to play during the Halloween Season in Sands Point. The terrifying show features 50,000 square feet of thrills and chills throughout the Hempstead House Mansion and has three floors of intense scenes. Creepy creatures of all kinds lurk throughout the castle, where the darkness makes it hard to find your way around. Be careful you don't get lost inside the massive mansion!

Type: Haunted Houses | Read More | Visit Website | Share Review
---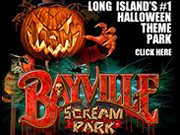 Bayville Scream Park - Bayville, NY
Located at the Bayville Adventure Park, which transforms into a terrifying destination each Halloween Season, the Scream Park features five Haunted Attractions that are sure to get your heart racing. A Top 10 Rated Attraction six years in a row on LIHauntedHouses.com, the park becomes invaded by ghosts and ghouls and is made up of the Bloodworth Haunted Mansion, Uncle Needle's Fun House of Fear, Temple of Terror, Zombie Pirates and Evil in the Woods. Do you have what it takes to complete all five spine-tingling attractions?

Type: Haunted Houses, Scream Parks, Spook Walks, Family Friendly | Read More | Visit Website | Share Review

---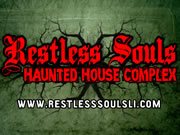 Restless Souls Haunted House Complex - Huntington Station, NY
Located in Huntington Station on West Hills Road, the Restless Souls Haunted House Complex gives thrill seekers four intense Haunted Attraction, for one scary low price. The attractions are filled with up-close actors, Hollywood-quality props and audio-animatronics and elaborate sets that will surely put each and every one of your senses to the test. This interactive haunt also doubles as a non-profit fundraiser for the West Hills United Methodist Church in Huntington Station and also directly benefits the "Small Church with a Big Heart."
Type: Mazes, Haunted Houses, Spook Walks | Read More | Visit Website | Share Review

---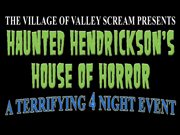 Haunted Hendrickson's House of Horror - Valley Stream, NY
A four-night Halloween Extravaganza presented by The Village of Valley Stream offers a ton of frightening fun in the heart of the Halloween Season. Combining your greatest fears with macabre music, eerie lighting and terrifying themes, Haunted Hendrickson's House of Horror gives the Valley Stream community a fun and spooky way to celebrate the season in the best way possible - with scares, of course!

Type: Haunted Houses| Read More | Visit Website | Share Review
---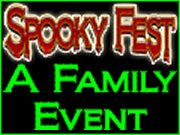 Spooky Fest at Tanglewood Preserve - Rockville Centre, NY
Located at Rockville Centre's Center for Science Teaching and Learning (CSTL), Spooky Fest combines scares with family friendly fun during the Halloween Season. Situated on 16 acres that are transformed into an ultimate Halloween event, visitors can take on the Scary Walk - The Woods Are Haunted, a quarter mile hike through the woods that features a cemetery infested with blood-thirsty zombies and The Maze of Zombies, filled with the undead at any corner! Family friendly fun includes Face Painting, The Mystic Den, Arts and Crafts, a Halloween Theater, Amazing Animals Live Animal Exhibit, Friendly Merry Monsters and a Not-So-Spooky Walk in the woods.

Type: Haunted Houses, Spook Walks, Mazes, Family Friendly | Read More | Visit Website | Share Review
---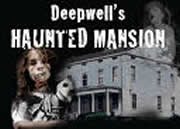 Deepwell's Haunted Mansion - Saint James, NY
Known for a ton of paranormal activity, Deepwell's Mansion is a favorite place for Mediums and Psychics and they open their doors each Halloween Season to see if the spirits want to come out and play! Thrill seekers will wander through dimly lit hallways, into themed rooms invaded by creepy clowns, spiders galore and various monsters that you don't want to come face to face with. Also offered during the season is the Deepwells Farm Fall Festival, which features vendors, pony rides, face painting, children's games, a pumpkin patch, musical entertainment, a magic show, hay bale jump, festival food and more!

Type: Haunted Houses, Halloween Festivals, Family Friendly | Read More | Visit Facebook Page | Share Review
---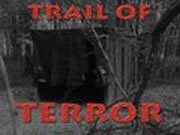 Yaphank Trail of Terror - Yaphank, NY
A Top 10 Rated Attraction Nominee on LIHauntedHouses.com in 2014 and 2015, the Yaphank Trail of Terror has been delivering scares to Long Island locals for a couple of years now. Located on the grounds of the Yaphank Presbyterian Church, visitors brave a half-mile long trail through the woods that takes about 15 minutes to complete. Want to run and hide? You're out of luck! Along with the Haunted Trail, also offered is a classic horror/thriller movie in the field each night for visitors to enjoy after they complete the Spook Walk!

Type: Spook Walks, Mazes | Read More | Visit Website | Share Review
---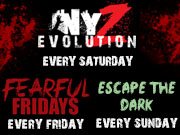 NYZ Apocalypse - Deer Park, NY
Located on Commack Road in Deer Park, NYZ Apocalypse gives Long Islanders a unique and interactive zombie survival experience to take on. A Top 10 Rated Attraction Nominee on LIHauntedHouses.com, a number of fun and challenging attractions are jam packed into one great location. NYZ Apocalypse also offers special events throughout the entire year so locals can test out their zombie shooting skills well before and after the Halloween Season comes and goes.

Type: Haunted Houses, Zombie Hunts | Read More | Visit Website | Share Review
---
Looking for More Scary Good Fun on Long Island?
Check Out Haunts.com's New York Haunted House & Attraction Guide Here!