2016 Top Haunted Houses & Attractions for Tennessee - Haunts.com
January 14, 2017 By Haunts.com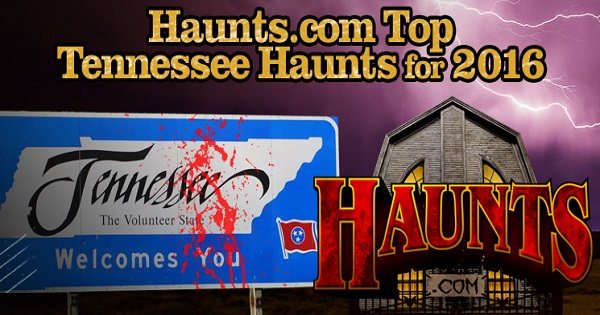 2016 Tennessee Must See Attractions > 2016 Must See Attractions in the US
With dozen of haunts calling Tennessee home, it wasn't easy to pick such a short list of Haunted Attractions for the Must See Tennessee Haunts that gave locals heart-pounding fun during the 2016 Halloween Season. Tons of terror was delivered all season long to thrill seekers, whether they resided in Nashville, were looking for frightening fun in Knoxville, or thrills and chills in Chattanooga, the seasonal fun was endless!

With so many scary-good attractions throughout The Volunteer State, it's hard to visit them all in just one Halloween Season. To make things a bit easier for when locals go searching for a Haunted Attraction to check out this year, Haunts.com has put together a list of Must See Haunted Attractions throughout Tennessee that received outstanding customer reviews and ratings in the 2016 Halloween Season. Take a look at the list below so you don't miss out on the biggest and baddest scares of the 2017 Halloween Season!
Top Pick for the 2016 Halloween Season: Fright Farm/Zombie Apocalypse Paintball Hunt - Dandridge, TN





This outdoor Haunted Attraction is located just minutes away from Gatlinburg, Pigeon Forge, Knoxville and other East Tennessee cities. Situated on 30 acres, the haunted farm and woods bring thrill seekers on a self-guided journey through terror. Infested with creepy creatures of all kinds, you never know who you'll come face to face with. In 2016, Martial Law was put into effect and the streets of Dandridge erupted into chaos. Thrill seekers who are brave enough to take on the challenge will be the only thing standing between survival and the total extinction of the human race!

Type: Haunted Houses, Hayrides, Spook Walks, Zombie Hunts | Read More | Visit Website | Share Review

---
While these haunts may not have snagged the #1 Spot for the 2016 Halloween Season, the race was tight, and all of our Top Haunts for 2016 are worth visiting this season if you can!
---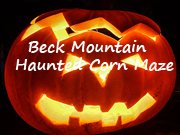 Beck Mountain Haunted Corn Maze - Elizabethton, TN
Located in Elizabethton, the Beck Mountain Corn Maze features an array of Halloween Season fun. The haunting journey begins on a Hayride, which takes thrill seekers to the Murder Manor, a haunted house that is filled with your very worst fears. If you make it out of the manor, you'll enter the Haunted Corn Maze, 3 acres of dark cornfield that is infested with the creepiest of creatures! Will you make it out alive?

Type: Haunted Houses, Mazes, Hayrides | Read More | Visit Website | Share Review
---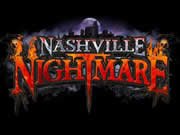 Nashville Nightmare - Madison, TN
Nashville Nightmare features an intense environment that is sure to get your blood pumping. Attractions include Night Terrors, a journey into 13 different nightmares and Horror High, a tour through the abandoned Madison Square School House that first opened its doors in the 1960s. Are you brave enough to make it through both attractions? Or will the nightmares be too much for you?

Type: Haunted Houses | Read More | Visit Website | Share Review

---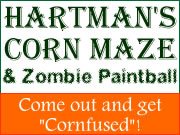 Hartman's Corn Maze & Zombie Paintball - Mosheim, TN
Hartman's Corn Maze boasts 8 acres of cornfields and about 3 1/2 miles of trails. With tons of twists and turns, it's no easy task to escape the maze. Then there's two styles of Zombie Paintball, where visitors can test out their shooting skills on the undead. During the day there are animatronic zombies throughout the village, and when the sun sets, the evening hunt features live zombies along with the animatronics. Will you be able to take them out before they get to you?
Type: Mazes, Hayrides, Zombie Hunts, Family Friendly | Read More | Visit Website | Share Review

---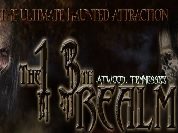 The 13th Realm - Atwood, TN
In 2016, The 13th Realm of Atwood introduced three new haunted attractions, The Awakening, The Shadows and Pandemonium. Filled with twisted shadows and tortured souls, The 13th Realm is sure to test the boundaries of even the bravest of haunt-goers!

Type: Haunted Houses | Read More | Visit Website | Share Review
---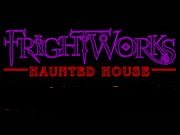 FrightWorks Haunted House - Powell, TN
FrightWorks Haunted House celebrated their 15th year of fear in 2016, and with all that haunting experience, it's no surprise that they sure know how to deliver tons of terror to Powell locals. The theatrical haunted attraction takes its visitors on an adventure through suspense, fright and fun with their detailed scenes, elaborate special effects and high quality actors.

Type: Haunted Houses | Read More | Visit Website | Share Review
---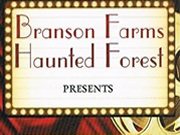 Branson Farms Haunted Forest - Washburn, TN
Located in Washburn, Branson Farms Haunted Forest first began as just a haunted hayride, before becoming a huge annual event in the area. Scaring for a good cause, Branson Farms raises money each year for someone in the community who is in need, all while offering a low price attraction to those who enjoys some scary-good fun during the Halloween Season. What better way to enjoy scares than supporting a great cause all at once?!

Type: Mazes, Spook Walks | Read More | Visit Website | Share Review
---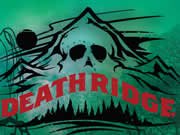 Death Ridge Haunted Attraction - Ethridge, TN
A Top 10 Rated Attraction Nominee on TennesseeHauntedHouses.com in 2015, Death Ridge Haunted Attraction is located in the heart of Amish Country in Ethridge. A three in one attraction, Death Ridge features a 1/2 mile haunted trail, haunted hayride and haunted corn maze all for the price of one! Are you brave enough to take on all three attractions at Death Ridge?

Type: Hayrides, Mazes, Spook Walks | Read More | Visit Website | Share Review
---
Looking for More Scary Good Fun in Tennessee?
Check Out Haunts.com's Tennessee Haunted House & Attraction Guide Here!