Add Some Fright to Your Festivities by Checking Out a Holiday Haunted Attraction!
December 1, 2018 By Chelsea T.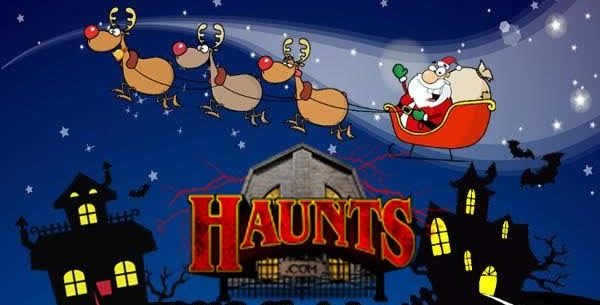 The Halloween Season has come and gone, but there are a number of haunted attractions all throughout the U.S. that are opening their doors for the holidays! For those who are obsessed with Halloween, this gives them a chance to enjoy some scares instead of having to wait until next year's spooky season.
At holiday haunts, visitors will most likely find themselves face to face with the demonic Christmas beast who goes by the name of Krampus, along with some evil elves and demented toys... oh, and Jack Frost, too. Take a peek at our list below to find out which haunted attractions in your state will be open this December and add a terrifying twist to this time of year!
Alabama

Hellbilly Hollow Presents: Holly Jolly Hellbilly Hollow Christmas
Open: 12/14
425 Highway 467 - Vincent, AL
205-365-4253

Nightmare at 3008 Presents: A Krampus Christmas
Open: 12/8 & 12/9
1731 Decatur Hwy. - Fultondale, AL
205-913-4506
*Bring a new unwrapped toy to receive $3 off your ticket price.
California
All Saints Lunatic Asylum Presents: Santa's Slay
Open: 12/21 & 12/22
22521 Shawnee Rd. - Apple Valley, CA
760-953-6730

Desoto Asylum Presents: The Krampus Encounter
Open: 12/8
1924 Desoto St. - Needles, CA
760-401-3612
Colorado

13th Floor Haunted House Presents Krampus: A Haunted Christmas - Chapter 2: Jack Frost
Open: 12/7 & 12/8
3400 E. 52nd Ave. - Denver, CO
303-355-3327




Florida
13th Floor Haunted House Jacksonville Presents: Krampus: A Haunted Christmas
Open: 12/7 & 12/8
9230 Arlington Expressway - Jacksonville Beach, FL
904-479-9629

Paranoia Horror Maze
Open: Everyday
2602 NW 5th Ave. - Miami, FL
305-833-5998



Georgia

Folklore Haunted House Presents: Christmas Nightmares
Open: 12/8, 12/14 & 12/15
5389 N. Main St. - Acworth, GA
*Bring a new unwrapped toy to receive discounted admission.

Paranoia Haunted House Presents: Holiday of Horror
Open: 12/8, 12/15, 12/21 & 12/22
2075 Marietta Highway - Canton, GA
678-793-1544

Illinois


13th Floor Haunted House Chicago Presents: Krampus: A Haunted Christmas - Chapter 2: Jack Frost
Open: 12/7 & 12/8
1940 George St. - Melrose Park, IL
708-571-3326
Basement of the Dead Presents: A Very Scary Axe-Mas
Open: 12/21 & 12/22
42 W. New York St. - Aurora, IL
630-896-2466

Indiana

Fear Fair Presents: A Creepy Christmas
Open: December 7 & 8th
800 A Ave. - Seymour, IN
812-567-3327



Haunted Angelus Presents: A Haunted Christmas
Open: 12/14 & 12/15
8829 E. Washington Ave. - Indianapolis, IN
317-500-4746

Haunted Hills Hospital Presents: The Haunting of Ebenezer
Open: 12/8 & 12/15
4700 Central Ave. - Lake Station, IN
219-241-9498



House of Trepidation Presents: Christmas Nightmare
Open: 12/14 & 12/15
1929 S Meridian St. - Indianapolis, IN
317-912-3845

Stillwell Manor Haunted House Presents: A Krampus Nightmare
Open: 12/8 & 12/15
1704 E 60th St. - Anderson, IN
765-393-1645

Louisiana

New Orleans Nightmare Presents: Krampus: A Haunted Christmas
Open: 12/7 & 12/8
319 Butterworth St. - Jefferson, LA
504-224-9140


Maryland

Laurel's House of Horror Presents: Escape the Holidays: The Uninvited Guest
Open: 12/14 & 12/15
935 Fairlawn Ave. - Laurel, MD
240-294-8444
New Hampshire

Fright Kingdom Presents: The Fright Before Christmas
Open: 12/7 & 12/8
12 Simon St. - Nashua, NH
603-809-1173
New Jersey

BloodShed Farms Fear Fest Presents: A Creepy Christmas
Open: 12/8
2919 Route 206 - Columbus, NJ
609-251-6707
Brighton Asylum Presents: Santa's Slay
Open: 12/15 & 12/22
2 Brighton Ave. - Passaic, NJ
201-716-2827


New York

Bayville Winter Wonderland Presents: A Haunted Christmas
Open: 12/7, 12/8, 12/9, 12/14, 12/15, 12/16, 12/21, 12/22 & 12/23
8 Bayville Ave. - Bayville, NY
516-62-GHOST


Chamber of Horrors Presents: Festive Fear: A Gothic/Horror Holiday Festival
Open: 12/8 & 12/9
1745 Expressway Drive North - Hauppauge, NY
516-710-1845

North Carolina

Hallowed Grounds Mill Presents: Merry Krampus
Open: 12/7 & 12/8
510 Highway 70 East - Hildebran, NC
828-201-9377
Ohio

The Dent Schoolhouse Presents: A Christmas Nightmare
Open: 12/7 & 12/8
5963 Harrison Ave. - Cincinnati, OH
(513) 445-9767


Oklahoma
The Sanctuary Haunted Attraction Presents: Santa's Lair
Open: 12/14 & 12/15
12101 N I- 35 Service Rd. - Oklahoma City, OK
405-237-2803
Oregon

House of Shadows Presents: The Nightmare After Halloween
Open: 12/7, 12/8, 12/14 & 12/15
1776 NW Fairview Drive - Gresham, OR
971-212-8723


Pennsylvania

Haunted Hills Estate Presents: Happy Horror Days
Open: 12/14, 12/15, 12/21 & 12/22
236 Rolling Hills Estate Rd. - Uniontown, PA
724-984-5915



Kim's Krypt Haunted Mill Presents: Kim's Kryptmas
Open: 12/14, 12/15 & 12/16
5932 Colonial Valley Road - Spring Grove, PA
717-225-4811

Kim's Krypt Haunted Mill Presents: Winter Wonder Trail (A Family Friendly Event)
Open: Weekends Nov. 30th-Dec. 30th
5932 Colonial Valley Road - Spring Grove, PA
717-225-4811
The ScareHouse Presents: A Creepy Christmas
Open: 12/7 & 12/8
118 Locust St. - Etna, PA
412-781-5885


Tennessee

Frightmare Manor Presents: Krampus: The Frightmare Before Christmas
Open: 12/14 & 12/15
7588 West Andrew Johnson Hwy. - Talbott, TN
865-471-2878



HauntedWeb of Horrors Presents: Christmas Nightmare
Open: 12/7, 12/8, 12/14 & 12/15
2665 South Perkins Rd. - Memphis, TN
901-870-7275

Nashville Nightmare Presents: Krampus: A Haunted Christmas - Chapter 2: Jack Frost
Open: 12/8 & 12/15
1016 Madison Square - Madison, TN
615-933-5377
Texas
Dark Hour Haunted House Presents: Wreck the Halls
Open: 12/14, 12/15, 12/28 & 12/29
701 Taylor Drive - Plano, TX
469-298-0556

House of Torment Presents: Krampus: A Haunted Christmas - Chapter 2: Jack Frost
Open: 12/7 & 12/8
2632 Ridgepoint Drive - Austin, TX
512-407-9449


Moxley Manor Haunted House Presents: NightSCARE Before Christmas
Open: 12/15
510 Harwood Rd. - Bedford, TX
682-231-1313

Scream Hollow Presents: Twisted Christmas
Open: 12/1, 12/2, 12/7, 12/8, 12/9, 12/14, 12/15, 12/16, 12/21, 12/22 & 12/23
149 Split Rail Lane - Smithville, TX
512-710-8267
Washington

Nile Nightmares Haunted House Presents: Krampusnacht
Open: 12/7 12/8, 12/14 & 12/15
6601 244th Street SW - Mountlake Terrace, WA
206-303-7675